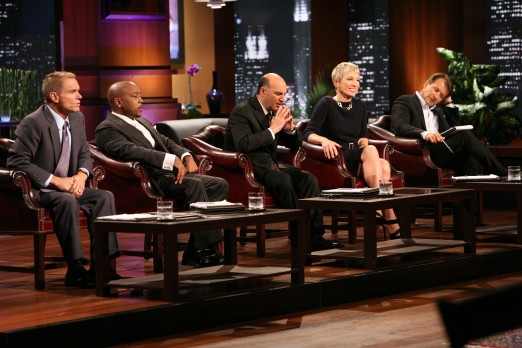 Episode 104 has five new entrepreneurs seeking an investment from the panel of Sharks. Kwami Kuadey looks for funding for Gift Card Rescue, a business that buys and re-sells unused gift cards. Gina Catroneo looks to make an impression with Souls Calling, her line of sandals that leave messages in their foot prints. Dan Claffey pitches Coffee Brand Gifts, a business featuring coffee-related words on stuffed animals. Paul Watts looks for capital to franchise his self-explanatory business called Graffiti Removal Services. Amy Feldman and Allison Costa pitch Coverplay, a simple slip cover for kids' playpens.
Which company scores a deal with a Shark?
Episode 104 Air Date
First Run –  August 30, 2009
Follow up segments featuring past Shark Tank success stories are a regular feature on Shark Tank. Since Episode 104 was only the fourth episode to air, there is no update segment.
There were 14 Shark Tank Episodes for Season 1. Casting is currently closed, but it never hurts to get a head start on next season! If you would like to appear on the show, check out our Auditions and Casting information.
Episode 104 – The Shark Investors and Entrepreneurs
The Shark Tank Episode 104 entrepreneurs make their best pitch to the panel of five Shark investors who will use their own money if they choose to invest. The Shark Investors negotiate on the spot without any previous information, which differs from typical negotiations between venture capital investors and entrepreneurial start-ups.
Companies pitching the Shark Investors must go through a rigorous due diligence process before an on-air deal is completed. Shark Tank Blog follow ups help you keep track of the companies that end up successful and the ones that don't complete their deal.
Thank you for reading SharkTankBlog, the number one site for Entrepreneurs, Investors and Fans. Our content updates multiple times day, giving you the latest information on Episode 104, Season 1, and all other seasons and episodes.