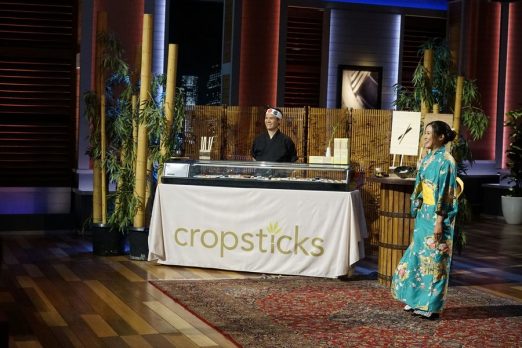 Mylen Yamamoto wants the Sharks to help make the common chopstick greener when she pitches Cropsticks in episode 822. Cropsticks are made from sustainably harvested bamboo – nearly 50% of chopsticks (36 billion yearly) sold worldwide are made from trees. Yamamoto's take on the chopstick also includes a built-in holder attached to each pair.
Chopsticks are just the first product her company – Cropmade – plans on producing for Asian cuisine. Her goal is to make environmentally friendly products that "leave behind a greener environment for future generations." She sells to restaurants and consumers from her website. A set of 25 is only seven bucks.
Yamamoto is a former professor who taught entrepreneurship at Loyola University. She took the plunge into her own business after a long flight to Asia where her chopsticks kept rolling off the table. After raising $21,816 on Kickstarter in early 2016, she stopped teaching and started doing.
She likely needs a Shark to help with distribution issues and for cash to fuel growth. Will a Shark learn to use chopsticks?
Cropsticks Shark Tank Recap
Mylen enters seeking $75,000 for 12.5% of her company. She tells the Sharks about the history of chopsticks and demonstrates her product. Next, she hands out sushi and her chopsticks to each Shark. She tells the Sharks about her Kickstarter campaign that raised $21,816 and she has $190,000 in purchase orders. With 65% margins, she'll make $125,000. The PO's are from Hyatt and an Asian food distributor.
Each unit costs 2.2 cents to make and she wholesales them for 6 cents and retails them for 10 cents. Kevin doesn't think restaurateurs will pay a premium for a commodity product, he's out. Mark quickly follows. Daymond thinks this is a B2B play and it's too early, he's out. Robert echoes Kevin's objection and goes out too. Lori likes Mylen, but the business isn't for her, she's out too.
Cropsticks Shark Tank Update
The Shark Tank Blog constantly provides updates and follow-ups about entrepreneurs who have appeared on the Shark Tank TV show. Cropsticks got its patent in April, 2018 and expanded distribution to restaurants – including on Disney properties. They added bamboo straws, sustainable planters and reusable chop sticks to the line as well. In July, 2019, the company was named a certified B corporation. As of December, 2022, the company is still in business with around $1.2 million in annual revenue.
Posts About Cropsticks on Shark Tank Blog
Cropsticks Company Information
Video