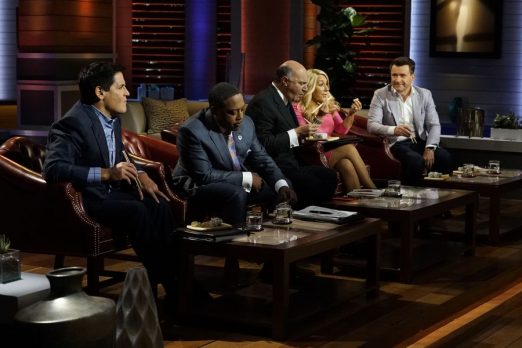 In episode 822, Shark Tank returns with four new entrepreneurs seeking an investment from a Shark to help grow their businesses. Cam MacKugler, an architect from Vermont, hopes the Sharks see growth potential in SeedSheet, an instant organic garden that ships straight to your door. Rick Pescovitz seeks an investment to grow Under the Weather, his business that sell a tent/chair hybrid for people who attend outdoor events. Brandon Zavala wants to toast to a deal for Apollo Peak, his "wines" designed for consumption by dogs and cats. Mylen Yamamoto wants to feed the Sharks with Cropsticks, her sustainably made chopsticks with a built-in holder.
Which business leaves the Shark Tank with a deal?
Back in season seven, Mark invested $300K for 25% of Dude Products. At the time, the company was rolling out into 1500 Kroger supermarkets. We'll see how much further a Shark took this company tonight.
There are 28 Shark Tank Episodes for Season 8. This season features more appearances by Chris Sacca and a host of other surprises. Casting is currently closed, but it never hurts to get a head start on season nine! If you would like to appear on the show, check out our Auditions and Casting information.
Episode 822 – The Shark Investors and Entrepreneurs
The Shark Tank Episode 822 entrepreneurs will make their best pitch to the panel of five Shark investors who will use their own money if they choose to invest. The Shark Investors negotiate on the spot without any previous information, which differs from typical negotiations between venture capital investors and entrepreneurial start-ups.
Companies pitching the Shark Investors must go through a rigorous due diligence process before an on-air deal is completed. Shark Tank Blog follow ups help you keep track of the companies that end up successful and the ones that don't complete their deal.
Thank you for reading SharkTankBlog, the number one site for Entrepreneurs, Investors and Fans. Our content updates multiple times day, giving you the latest information on Episode 822, Season 8, and all other seasons and episodes.
Episode 822 Press Release
Shark Tank – Episode 822 (4/7)
A WINE FOR CATS, A MAINTENANCE-FREE GARDEN, A NEW KIND OF CHOPSTICK, AND A PORTABLE SHELTER FOR SOCCER PARENTS, ON AN ALL-NEW EPISODE OF ABC'S 'SHARK TANK'
"Episode 822" – A former pet food company salesman from Denver, Colorado, has a unique addition to the beverage industry with a wine for cats; a soccer dad from Cincinnati, Ohio, shares his gut-wrenching story about how he designed a portable shelter that ensures you're covered wherever  you go; an architect and environmentalist from Middlebury, Vermont, used his skills to design a maintenance-free and fun way to make anyone into a gardening guru; and an entrepreneurism teacher from Los Angeles, California, left academia to pursue her own business idea of a reinvented chopstick. Also, a follow-up with Sean Riley, Jeff Klimkowski & Ryan Meegan from Chicago, Illinois, and Dude Products, their manly, durable wipes that Mark Cuban invested in during season seven, on "Shark Tank," airing FRIDAY, APRIL 7 (9:00-10:01 p.m. EST), on The ABC Television Network.
The Sharks in this episode are Mark Cuban, Daymond John, Kevin O'Leary, Lori Greiner and Robert Herjavec.