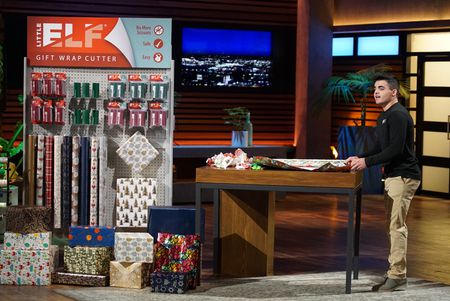 Bryan Perla introduces his Elf Gift Wrap Cutter in the Shark Tank Holiday special, episode 1110. Perla is currently a junior at Stanford University while balancing his newfound entrepreneurial success. In fact, some of his classmates helped him get the product off the ground.
He first envisioned the ELF (which stands for Easy, Lightweight and Fast) as a senior in high school where he developed his first prototype. He kept the idea alive when he went off to Stanford and in his sophomore year, he launched a successful Kickstarter campaign that raised $130,125 in the spring of 2018. Some of his Stanford buddies helped him with the Kickstarter, but he ran into some production issues. Despite promising a Christmas 2018 delivery, he shipped the product in March of 2019, presumably around the time he was trying to get on the show.
The Elf is a clever tool. It's cylindrical and slides over a rolled up tube of wrapping paper. By sliding the paper through the slot in the cylinder, you can cleanly cut any size wrapping paper with no waste and no jagged edges. Since you can cut with the Elf without unrolling the paper, it keeps things organized too.
The Elf sells for $20.99 for a two pack. Amazon is fully stocked with inventory for the Christmas season. While the product is patent pending, there are already a bunch of knock-offs. Bryan probably wants a Shark's help navigating the cutthroat world of overseas manufacturing and patent protection.
Company Information
Video

Posts about Elf Gift Wrap Cutter on Shark Tank Blog
The Little ELF – Gift Wrap Cutting Tool
Elf Gift Wrap Cutter Shark Tank Recap
Bryan enters the Tank seeking $150,000 for 15% of the business. He tells his story and hands out samples. The Sharks like the product and Bryan. A bidding war between Lori and Kevin ensues and, after the smoke clears, Bryan ends up doing a deal with Lori for $150,000 for 20%.
Elf Gift Wrap Cutter Shark Tank Update
The Shark Tank Blog constantly provides updates and follow-ups about entrepreneurs who have appeared on the Shark Tank TV show. The deal with Lori never closed, but the company is still in business. Lori likely backed out due to the large number of similar products on the market. As of June, 2022, the company is still chugging along with revenue of $900,000-$1 million annually.