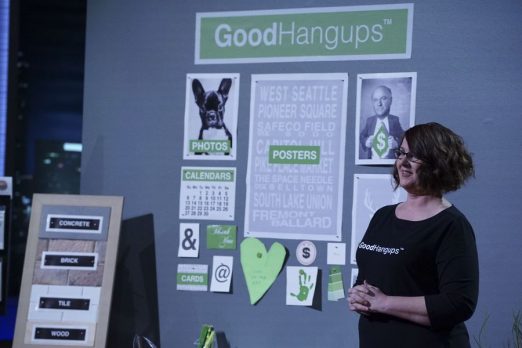 Leslie Pierson hopes the Sharks think her invention, GoodHangUps, is their next big thing when she pitches the product in Shark Tank episode 802. Pierson invented the product as a means of organizing her 4-year-old son's artwork. His prolific creativity quickly outgrew the refrigerator and Pierson wanted a way to display his artwork without damaging her walls.
GoodHangUps is a series of small, metallic disks that mount to virtually any solid surface using reusable, non-marking adhesive strips. Small magnets "stick" the artwork to the disks. It's a great solution for anyone who wants to hang posters, photos, or art without worrying about frames or damaged walls.
In the fall of 2015, GoodHangUps was the winner of the Today Show's "Next Big Thing" contest which earned Pierson a run on QVC. She was a hit on QVC – selling out in just a few minutes and it continues to sell strong.
Despite the obvious success, Pierson needs cash for a big production run so she can start selling in mass retail outlets. Will a Shark get hung up on this product and invest?
GoodHangups Tank Recap
Leslie enters seeking $100,000 for 10% of her business. As she tells her story, she puts a picture of Kevin on the demonstration display. She hands out samples, then starts fielding questions. Kevin, of course, wants to know about sales. She's done $450,000 in a little over a year – this impresses the Sharks. 50% of her sales were from QVC (Lori says she remembers seeing the product there) and the rest is from a little over 100 retail locations including The Paper Store. She says she wants a Shark's help getting into bigger retailers.
The Sharks like her margins: an 8 pack costs $2.25 to make and she sells it for $14.99. Mark likes Leslie, but doesn't think he's the right partner, he's out. Robert says he's not an artsy craftsy kind of guy and he goes out. Lori likes it and offers $100,000 for 20%. The other Sharks want to squeeze Lori. Daymond offers $100,000 for 15% and Kevin goes to 10%. After giving his offer Kevin tells Leslie "I've given you leverage to squeeze Lori, now squeeze her!" Leslie counter with this: she asks Lori for a $100,000 loan for 10% equity; if the loan isn't paid off within a year, the equity goes to 20%. Lori agrees!
GoodHangups Shark Tank Update
The Shark Tank Blog constantly provides updates and follow-ups about entrepreneurs who have appeared on the Shark Tank TV show. The deal with Lori did close and they went on QVC together. You can now find the product in Bed Bath and Beyond,  buybuyBaby and Amazon. In the three years following the Shark Tank appearance, the company did $5.3 million in sales. As of April, 2022, the company is open and doing $1 million in annual revenue.
Posts About GoodHangups on Shark Tank Blog
GoodHangups Company Information
Video