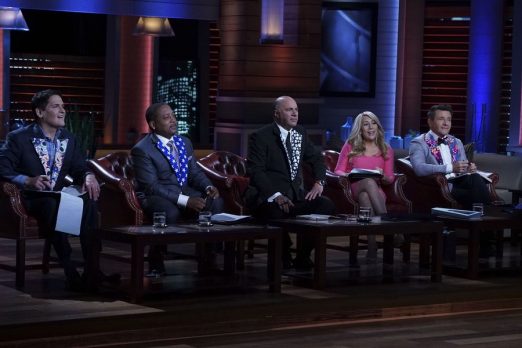 Episode 802 has just five Sharks in the Tank as four new businesses vie for an investment. Leslie Pierson, a "momtrepreneur" from Washington state, wants to attract a Shark to GoodHangUps, a magnetic, non-marking wall hanging system that was the Today Show's "Next Big Thing" in 2015. Nick Massie, a self-professed "culinary ninja," wants the Sharks to bite on Ice Age Meals, his healthy, frozen meals with Paleo leanings. Father and son team Jeff and Jack Danos hope their invention, the Tactibite Fish Call – a fisherman's secret weapon, will catch a Shark. Sebastian Garcia and Raul Bernal show the Sharks how to change any suit into a tuxedo with their invention called The Lapel Project.
Which business will catch a Shark and become the next Shark Tank success story?
Mr. Wonderful said he was going to "light up America's toilets" when he invested in IllumiBowl in season seven. He offered $100K for 25% of the business. Tonight, we'll see what happened to this Shark Tank success. Did they make a lot of sales or did Kevin flush his investment?
There are 28 Shark Tank Episodes for Season 8. This season features more appearances by Chris Sacca and a host of other surprises. Casting is currently closed, but it never hurts to get a head start on season nine! If you would like to appear on the show, check out our Auditions and Casting information.
Episode 802 – The Shark Investors and Entrepreneurs
The Shark Tank Episode 802 entrepreneurs will make their best pitch to the panel of five Shark investors who will use their own money if they choose to invest. The Shark Investors negotiate on the spot without any previous information, which differs from typical negotiations between venture capital investors and entrepreneurial start-ups.
Companies pitching the Shark Investors must go through a rigorous due diligence process before an on-air deal is completed. Shark Tank Blog follow ups help you keep track of the companies that end up successful and the ones that don't complete their deal.
Thank you for reading SharkTankBlog, the number one site for Entrepreneurs, Investors and Fans. Our content updates multiple times day, giving you the latest information on Episode 802, Season 8, and all other seasons and episodes.
Episode 802 Press Release
Episode 802 (9/30)
AN ENTREPRENEUR'S POETIC PITCH INSPIRES THE SHARKS TO CREATE POETRY OF THEIR OWN, AND A FATHER/SON TEAM HOPE TO CATCH A SHARK WITH THEIR
HIGH-TECH FISH-CATCHING DEVICE, ON 'SHARK TANK'
"Episode 802"— A self-proclaimed "culinary ninja" from Reno, Nevada, gives a poetic pitch for his delicious heat and eat paleo meals, which inspire the Sharks to respond with poetry of their own; a proud father and his impressive 17-year-old son from Mandeville, Louisiana, hope their high-tech device designed for catching fish hooks them an investment from the Sharks; a mother from Seattle, Washington, who has designed removable and reusable magnet stickers for hanging art, jeopardizes a Shark's valuable offer when she chooses to hear what the other Sharks have to say; Daymond calls an energetic entrepreneur from Miami, Florida, the "best salesman he has seen" after he sells the Sharks on how he can turn a suit jacket into a tuxedo with customized lapels. Also, an update on Matt Alexander & Mike Kannely from Provo, Utah, and their motion-activated toilet-bowl light that Kevin O'Leary invested in during season seven, on "Shark Tank," airing FRIDAY, SEPTEMBER 30 (9:00-10:01 p.m. EDT), on the ABC Television Network.
The Sharks in this episode are Mark Cuban, Kevin O'Leary, Daymond John, Lori Greiner, Robert Herjavec.