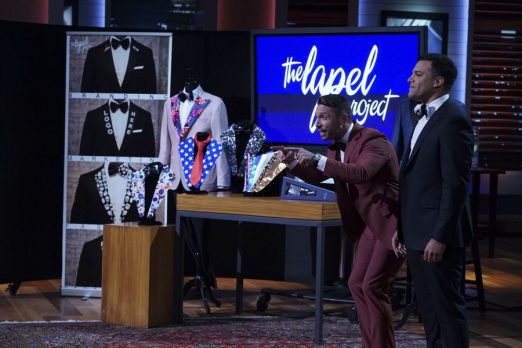 Sebastian Garcia and Raul Bernal pitch The Lapel Project, their men's fashion accessory that jazzes up and customizes the lapel on a suit, in Shark Tank episode 802. Garcia is a fashion industry veteran who co-owns Sartori Amici, a Miami-based, exclusive men's clothing store. His vision for overthrowing "Tuxedo Tyranny" was realized when he started the Lapel Project.
Essentially, the product is a stick-on piece of satin fabric that attaches to the lapel of a suit, transforming it into a tuxedo jacket. Garcia has a patent pending on the product. There are about a dozen "stock" lapels in their online store, and they offer a customized option that allows you to design your own. Each Lapel Project costs $50-$60.
The beauty of the product is it's an inexpensive way to get a tuxedo look, without buying or renting the tuxedo. Garcia wants to  make it into "the next major accessory of our time, as impactful as the advent of the handkerchief." He likely wants a Shark's help with funds for production. Will this business suit one of the Sharks?
The Lapel Project Tank Recap
Sebastian and Raul enter seeking $150,000 for 20% of their business. They make their pitch and demonstrate how easy it is to use the products. The Sharks are both surprised and impressed. They outfit the Sharks with custom lapels – even Lori – and they all like their samples. Each lapel, if properly cared for, can last up to ten uses.
Margins are good – they make them for $5-$8 and sell them for $50-$100. So far, they've only sold $16,000 worth from the store Sebastian owns. They want an investor to build out the online business. Robert thinks it's a gag gift but Mark is very interested. He tells them he could help them "crush it" on Amazon and he offers the $150,000 for 30%. Daymond and Lori appear to want to make offers, but Daymond goes out. Lori quickly follows. Then, Mark moves in for the kill and they seal the deal.
The Lapel Project Shark Tank Update
The Shark Tank Blog constantly provides updates and follow-ups about entrepreneurs who have appeared on the Shark Tank TV show. After the show, Daymond, Lori and Robert also invested in this business. Mark's team completely overhauled the company website and built a robust Amazon Store. A year after appearing, sales went up 1000%. They even offer custom lapels now. As of January, 2023, the company is open for business and doing well, especially during prom season!
Posts About The Lapel Project on Shark Tank Blog
Lapel Project turns Suits into Tuxedos
Company Information
Video