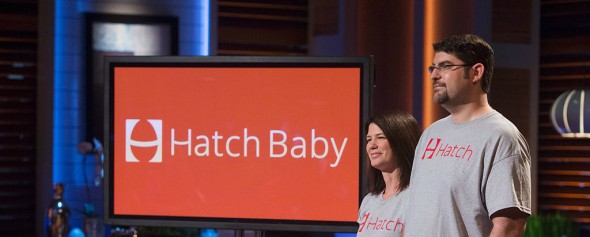 Dave and Ann Crady Weiss pitch Hatch Baby, their smart changing pad for infants, in Shark Tank episode 707. Hatch Baby brings the "internet of things" to the nursery with what some are calling a "FitBit for infants." The product is a changing pad that, when paired with a free app, tracks bay's weight, how long it sleeps, how much it eats, how often it poops, and more. The idea is that the device will help alleviate some parents' concerns over their child's development while enabling them to track certain milestones without a trip to the doctor.
Co-creator Ann Crady-Weiss is the founder of Maya's Mom, a social interaction site for new mothers to exchange ideas. She parlayed that success, and the relationship she had with venture firm True Ventures into a $7 million funding round for Hatch baby. True Ventures also backed Maya' Mom back in 2006.
The Weisses believe "confident, reassured parents raise healthy, happy children." Hatch Baby will help parents know their child is developing normally and can possibly signal problems before they become too serious. The backbone is the data collected by the device and app that measures baby's growth in relation to established norms from data  from the World Health Organization.
Hatch Baby costs 300 bucks, but it is currently discounted $100 for those who pre-order from the company website. You'll need four "C" batteries to run it and it's made from machine-washable polyester microfiber (pad), and ABS plastic (enclosure); it's also BPA-free and Phthalates-free.
Will a Shark hatch a deal for Hatch Baby?
Hatch Baby Shark Tank Recap
Dave and Ann open with an at home segment. Ann says being a parent is scary. When she brought home their first daughter, she was losing weight and Ann was constantly taking her to the doctor's office. Everything turned out OK, but Ann wanted to find a way to ease parents' worries about their baby's development.
Dave and Ann enter the Shark Tank seeking $250K for 2.5% of their company. It's an easy way to weigh a baby. 90% of moms have anxiety in their first weeks and the changing pad with built in scale and smart phone app provides an easy way to see how much an infant is eating. Robert questions whether that level of detail is necessary and Ann reiterates how scary it is to bring home an infant.
They have not sold any as of taping and they have a $10 million valuation on no sales. Ann tells how she started Baby Center, a parenting website, which she later sold to Johnson and Johnson. They went to same investors to fund Hatch Baby and her experience with Baby Center tells them what moms want.
The product costs $89 to make sells for $299. Mr. Wonderful says they have credibility in the space, but calls it a $300 scale. Dave explains it's backed by the same people who invested in FitBit. They plan to sell exclusively online and forecast 20,000 units the first year.
Mark is not buying it and says "everyone has a plan until they get punched in the face." He's out. Robert says past success is no guarantee of future success, he's out. Lori doesn't think it's a big enough problem to justify the price; she's out. Mr. Wonderful goes out too.
Chris Sacca likes "smart nursery" products and likes the changing table as a platform, but doesn't think its invest-able at the prototype stage; he's out. Ann is passionate about getting a Shark and offers to bring them in on a $250K note from the last round of financing. Sacca likes that deal and takes it.
RESULT: DEAL with Chris Sacca for $250K for 25%
Hatch Baby Shark Tank Update
Dave and Ann partnered with Chris to bring Hatch Baby to the next level. The website now claims "millions of feedings recorded," so it appears that sales are moving along. They've also expanded their line to include "Rest," an app-controlled nightlight that offers different colors, white noise, and even patterned covers to match the nursery. It appears that the pair took the Sharks' advice to heart and are focusing on creating products that will have staying power as children grow. The video advertising the Rest light/noise machine pictures toddlers and older children enjoying the nightlight, as well as mothers feeding their babies by its gentle glow.
Hatch Baby might not have excited the Sharks into a feeding frenzy, but it does seem to be growing, good news for its parents, Dave and Ann.
The company, which has shortened its name to Hatch, gets an update segment in season 11, episode 1114. In the segment, they note their name change and introduce their new products the Rest series of sleep aids for babies and the Restore series for adults. The Restore is an all in one sound machine, sunrise alarm, smart light, meditation app and alarm clock. The Rest has three models. The mini is a white noise sound machine to help kids fall asleep. The Rest is like the mini but with a night light. The Rest Plus is like the Rest but adds a clock and voice control. They also added the Restore version for adults.
In February, 2019, Amazon invested an undisclosed amount in the company as part of it's new Baby Skill Activity API. At the time, the business was valued at $36.5 million. In July, 2022, they introduced "Rest 2.0." In January, 2023, the company introduced Restore 2, a revamped version of the original that features "snooze-inducing audio" and "a customized gentle sunrise alarm.' As of August, 2023, the company is still in business and generating $6.9 million in annual revenue.
Posts About Hatch Baby on Shark Tank Blog
Hatch Baby Company Information
Video