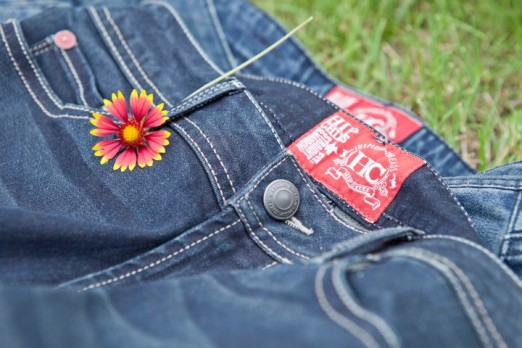 Hip Chix entrepreneurs Aimee Miller and Megan Jackson-Carreker pitch their line of premium denim jeans for women to the Sharks in episode 416. The two Dallas area women began Hip Chix in 2011 after four years of testing fabrics and designs. The Baylor University grads met in college and remained friends over the years. As native Texans, they wanted blue jeans that were lightweight and comfortable in the Texas heat and weren't stiff and rough like some jeans can be. They manufacture Hip Chix jeans in California, making Hip Chix a true American product. Designed with women in mind, Hip Chix jeans are "buttery soft to the touch and highlight your posterior in a positive way." Megan and Aimee are both jean loving, Texas fashionistas with a love for sleek, soft, comfortable and stylish denim. Megan brings some fashion design experience to the table as well.
Hip Chix Shark Tank Recap
Aimee Miller and Megan Jackson-Carreker bring Hip Chix Jeans to the Shark Tank. The pair is looking for a $150,000 investment in return for 35% equity in their company. The pair present their line of denim, featuring detailing designed to create a slimming effect, and a waistline that's designed to prevent "muffin top" and "whale tail"- a condition in which the waistband rides down, revealing a woman's underwear.
Lori Greiner takes a closer look at the jeans, examining the waistband to see how it fulfills the claims. Kevin O'Leary, in typical fashion, gets right to the heart of things, asking about sales. The Hip Chix ladies have sold $12,000 so far, a number that doesn't stir much excitement in the Sharks. Robert Herjavec wants to know what the pair's strategy will be going forward, asking "So, once Kevin gives you the $150,000, tell me what the next 12 months look like."
Miller explains that they want an investment in order to expand their line and design more styles to grow the company. They hope to reach $850,000 in sales in the next year, by reaching out to the boutiques and investing in marketing. The Hip Chix jeans cost $68 to make, sell to the retail stores for $80, and retail for $187. Kevin O'Leary is shocked by the profit margin.
"You're making no money!" he exclaims.
The pair explain that, with an investment, they'd be able to do larger orders, cutting their costs and improving their margins.
Daymond John believes the jeans are too expensive. "This is my space," he says. "And most of the jeans players are trying to bring their price down to $120, because the days of $180, $220, are pretty much over."
Robert Herjavec thinks the pair needs a lot more money than they've asked for. He's out.
Lori Greiner agrees. "I think that it's really too high a hill to tackle," she says, recommending that the Hip Chix pair design something new, "where you can corner the market and don't have so much competition. She's out.
Daymond John recommends that they attempt to find a celebrity backer, and then return to the Shark Tank. Today, the company's too small. He's out.
Mark Cuban tells the pair not to give up, but he's out.
Kevin O'Leary advises them to pursue a different dream, predicting that they have "zero chance of gaining share in the jeans market." He's out, and Hip Chix jeans leaves the Tank without a Shark deal.
Hip Chix Jeans Shark Tank Update
When their bid go get funding in the Shark Tank failed, Miller and Jackson-Carreker turned to Kickstarter in hopes of raising their $150,000 goal in April of 2015. By May, 2015, the pair had raised $19,579, falling far short of their required amount.
The denim market is extremely competitive, even at the designer level. Without serious innovation, it's unlikely that Hip Chix jeans will be able to gain a foothold before sinking below the waves of the fashion industry. These intrepid ladies have not yet given up on their dreams. Their social media accounts were still active as of July 2015. Hip Chix jeans haven't found their niche yet, but the future may be kinder to these Texan businesswomen. As of July, 2019 the company has closed its doors.
Posts about Hip Chix on Shark Tank Blog
Company Information