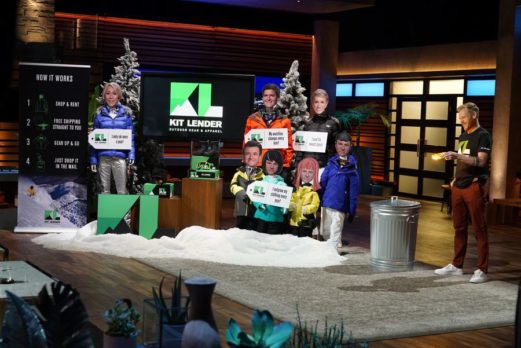 Forrest Shinners hopes the Sharks invest in Kit Lender, his growing ski equipment and apparel rental business, in Shark Tank's Holiday Special, episode 1110. Skinner grew up skiing in Stowe, Vermont where his parents owned a ski shop. He always had the latest gear and styles at his disposal while growing up.
When he moved to New York City after college, his friends didn't want to take many ski trips. Skiing is an expensive sport: lift tickets can cost up to $200, plus you need to have skis, proper clothing and a place to stay. Skinner enticed his friends to go skiing with him by letting them stay at his parents' house and lending them skis and clothes, which were in abundance at his home.
That was when the light bulb went off. In 2014, Kit Lender opened for business and it now ships to all 50 states. Forrest says they've seen 100% growth year to year and expect to ship 10,000 "kits" this year (2019). The company doesn't just "rent ski clothes," they rent everything men, women and children need to go skiing: gloves, goggles, boots, jacket and ski pants. They'll even provide underwear and socks – but you have to buy those!
A full "kit" runs anywhere from $30-$50 a day, depending on the sizes and styles chosen. Simply chose your gear on the website, and they'll deliver it right to the front desk of the ski lodge. When vacation is over, put everything in the pre-paid return shipping envelope provided and leave it at the front desk. Kit Lender has a lot of success partnering with resorts who usually rent skis, but not all the other stuff. Forrest wants to go beyond ski gear into other avenues – like camping gear – and he likely wants a Shark's help with the logistics of expansion.
Company Information
Video

Posts about Kit Lender on Shark Tank Blog
KitLender – Ski Gear Rental Online
Kit Lender Shark Tank Recap
Forrest enters the Tank seeking $200,000 for 7% of his business. He explains the business and how it came to be. The Sharks like the concept and convenience of the business. They also like the sales: $750,000 for 2019. What they don't like is the huge amount of inventory required to grow this business. The Sharks go out one by one and wish Forrest good luck in his venture.
Kit Lender Shark Tank Update
The Shark Tank Blog constantly provides updates and follow-ups about entrepreneurs who have appeared on the Shark Tank TV show. Despite not getting a deal, the traffic on show night burdened the company website with over 25,000 simultaneous users. This business is still open and has a jazzed up website since appearing on Shark Tank. As of July, 2021, the company added camping and hiking gear to the mix. Annual revenue is $1 million.