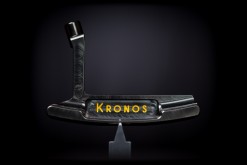 Phillip Lapuz and Eric Williams pitch Kronos Putters in episode 602, the second part of the Shark Tank season 6 premier. Kronos Putters are precision milled and meticulously hand finished in San Diego. Their mission is "to raise the standard in putter manufacturing one putter at a time."
Kronos Putters make no claims to make anyone a better golfer – that only comes through A LOT of practice, but they aim to bring craftsmanship to the art of putter making. Each putter head is milled from a solid block of steel. Lapuz and Williams believe the putter is a precision club and should be manufactured as such, not mass-produced.
Lapuz grew up in the shadow of Callaway, TaylorMade, and Titleist's test facilities and mills Kronos Putters at a shop that does a lot of prototype work for golf equipment manufacturers. Kronos sells its putters on its website and in some specialty golf shops. They have three series of putters: Raw, Refined, and Rare, and they sell club heads as well.
They are likely looking for expansion capital and help getting into big box golf and sporting goods stores. Are Kronos Putters on par with the Sharks?
Kronos Putters Shark Tank Recap
Phillip and Eric come in seeking $150K for 15% of their business. They explain that you "drive for show and putt for dough." They explain their milling process and ask Mr. Wonderful to try a putt – he doesn't sink it. Eric explains the putter itself won't make a golfer better, but a better putter will make it easier to get better.
They've done $260K in sales, mostly in Japan. In America, they don't have a golf pro "validating" their product. Mr. Wonderful explains about the Greek myth about Kronos, whose time was the "Golden Age," and they want to return to the Golden Age of Golf. Robert likes the feel of the putter and begins asking questions. The guys reveal they've invested about $100K.
Mark says he hates golf, so he's out. Barbara loves golf because it gets rid of her husband every weekend, but she goes out. Lori likes their concept, but she's out too. Robert probes a little and Phillip gets emotional about his fiancée – she can't come to America unless he makes it big, because her parents don't approve of the business. Even Kevin gets choked up! Barbara thinks he should use the parents' disapproval as motivation. Mr. Wonderful thinks it's a long shot for the product to catch on, so he's out.
Robert says he thinks people need an outside motivation to succeed, but he thinks it will take a long time to recoup an investment. He offers $150K for 30%. The guys confer in Japanese and counter at 25%. Robert goes to 30%, and they do a deal!
Kronos Putters Shark Tank Update
The Shark Tank Blog constantly provides updates and follow-ups about entrepreneurs who have appeared on the Shark Tank TV show. The deal with Robert never closed. Phillip's fiancé's parents still didn't approve, even after he sent them a video of his appearance in the Shark Tank. Two years later, Phillip married another. As of August, 2021, this company is still in business with annual revenue of $5 million. The putters were named one of the best putters for the year 2022. As of August, 2023, lifetime sales are $38 million.
Posts About Kronos Putters on Shark Tank Blog
Kronos Putters Company Information
Video