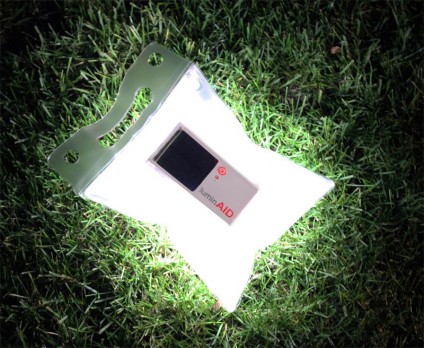 Anna Stork and Andrea Sreshta pitch their solar disaster lighting solution, LuminAID, to the Sharks in Shark Tank episode 617. The two first envisioned the product in 2010 in the aftermath of the devastating earthquakes in Haiti when basic needs, including reliable lighting, were virtually non-existent. When they got stuck in an earthquake in Japan in 2011, they decided to make their vision a reality and LuminAID was born.
The LuminAID light is an LED, solar-powered light that inflates when you want to use the light. Inflating the light creates better light diffusion. To charge it, deflate it and lie it down on a flat surface for 6-7 hours; that's it! The concept behind LuminAID was creating a simple, yet useful portable lighting solution for people without other lighting options. They're good for camping and for people in crisis with no other lighting options.
Stork and Sreshta created another company that merges social impact and responsibility with commerce: for each LuminAID they sell, they donate one to a person in need. The Lumin AID is a simple and sleek solution to a common problem: darkness! They hope a Shark will see the light and invest in their small, but growing company.
LuminAID Shark Tank Recap
Anna and Andrea enter seeking $200,000 for 10% of the business. They demonstrate LuminAID and explain how the solar charging works. It's the AID in LuminAID the women are most proud of and they want to make their product a worldwide phenomena.
In their first year, they had $250K in sales and the second year they have a little over $1 million; the Sharks are impressed. They explain they sell to three customer types: individuals, wholesale/retail, and government agencies and NGO's. Shelter Box purchased over 30,000 units. Columbia University has 2% of the business with a 2% royalty on retail sales. Once the Q&A with the Sharks is over, the offers start coming in.
Mr. Wonderful offers $200,000 with a 4% royalty until he recoups four times his investment, then he goes away. Daymond offers $300K for 20% and he wants to license it. Lori offers $200K for 20% because she thinks the product can change the world. The women think the equity ask is too much.
Mark chimes in – he wants to know how big the inflatables can be. He offers $200K for 15% with the option to lead the next round of financing. Robert offers $200K for 15% with no contingencies. There are 5 offers on the table and they accept Mark's offer.
RESULT: DEAL with Mark for $200K for 15%
LuminAID Shark Tank Update
The Shark Tank Blog constantly provides updates and follow-ups about entrepreneurs who have appeared on the Shark Tank TV show. Luminaid was featured in an update segment in episode  715. Their mission is to help people around the world. They have a new product that lasts 30 hours and their sales doubled from $1 million to $2 million since appearing on the show. They recently joined Shelter Box on a humanitarian trip to Malawi where they handed out lights. Since appearing, they've distributed 50,000 lights in over 50 countries with disasters.
They've also expanded their retail presence: the product is on the shelves at Zulily, Brookstone, the Container Store, and Walmart. There are new products, too:  LuminAID Renegade and a self-standing lantern, the PackLite Spectra.
In February, 2020, the company appeared in The Shark Tank Greatest of All Time Special in the "Greatest Businesses with a Social Cause" segment.
As of June, 2021, the company is till in business and has revenues of $1 million annually. They've given away over 150,000 lights to people in the aftermath of a variety of natural disasters.
In November, 2021, Luminaid was acquired for an undisclosed sum by Adventure Ready Brands, a New Hampshire-based maker of outdoor gear and products.
Posts About LuminAID on Shark Tank Blog
LuminAID Company Information
Video