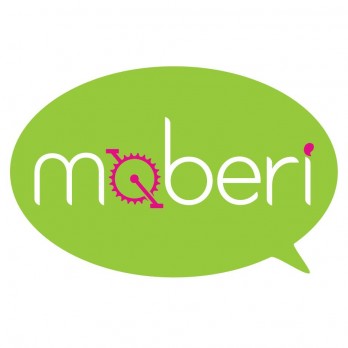 Ryan Carpenter introduces Moberi to the Sharks in episode 520 on February 21. Moberi is a bicycle powered smoothie cart in Portland, OR. The business name is a combo of "MObile food" and Oregon's abundant "BERRIes." Carpenter got the idea for using a bike to power a smoothie-making blender while working at an Australian hotel. A co-worker showed him a video of people using bikes to power different kinds of appliances and when he got back to Portland, he built a blender powered by an old exercise bike.
After doing the local fair and festival circuit, Carpenter wanted to grow Moberi into a mobile food business. He successfully raised $6,000 on Kickstarter in May, 2013 to build two new bike blenders, finish off the build of his mobile cart, and get a bunch of tee-shirts and other branding swag.
Moberi is currently closed for the winter, but they still do catering and events. Patrons can opt to blend their own smoothies or let one of Moberi's "hipsters" pedal it up for them. Carpenter is likely looking to the Sharks for an investment to expand his mobile food empire.
Moberi Shark Tank Recap
Ryan comes into the Shark Tank seeking an investment of $50,000 in return for 15% of Moberi. He presents a model of his food cart, complete with blender-bikes, and offers the Sharks an opportunity to "pedal their own smoothy." Daymond John and Mark Cuban take him up on it. Ryan passes samples out to the rest of the Sharks.
Kevin O'Leary asks "are you nuts?" He asks how he handles a line. Ryan explains that he has a single brick-and-mortar location, and a cart, and that people line up for the smoothies.
Daymond John wants to know what Ryan plans to do with the money. Ryan wants to open two more carts. Kevin O'Leary calls him "crazy," but Ryan's smile stays in place. When O'Leary asks him sarcastically what he's going to do with his life, he responds, "Hey, I'm just trying to stay in shape and have a smoothie."
Barbara Corcoran calls it a "happy business" but isn't sold on the concept. She says it's simply "not investable." She's out.
O'Leary quickly follows, announcing that he's "traveled to the future, and the headlines say Man Dies of Heart Attack Pedaling a Smoothie."
Ryan appeals to Daymond John, but John is skeptical, asking about the numbers. Ryan has made $70,000 from the first cart in the current year, with a 20% profit. Robert Herjavec doesn't believe the business is scalable. He's out.
Daymond John thinks the concept is a good idea for "an island;" a resort setting. Like Herjavec, he doesn't see it as a scalable business. He's out.
Mark Cuban has a problem with the cost of the blender bikes, which is $2,000 a piece. With the high cost of the equipment, he doesn't see the profitability, and he's out. Ryan leaves the Shark Tank with no deal.
Moberi Shark Tank Update
Despite his failure to entice a Shark, Ryan's Moberi presence is still strong on social media a year later. Two locations are listed on the website, and there's a contact form for those interested in having Moberi cater their "wedding, health fair, bat mitzvah,  birthday party, or other private event."
In an ultra health conscious town like Portland, which takes pride in it's "weirdness," Moberi has found its niche. The Sharks may not have taken a bite out of Moberi, but with two locations and a new recipe book for sale, Ryan seems to have struck the right note for Portland residents. The most interesting recipe in the book may be "Mr. Wonderful; the Smoothie," a blend of dragonfruit, apple, strawberry, and mint for a touch of cool refreshment.
Success may be the best revenge, and Ryan Carpenter seems to be doing very well for himself with his Moberi smoothie business. He opened a third location in Portland after Shark Tank and, despite disruptions due to the Covid-19 pandemic, he kept all three open. As of August, 2021, he's still in business with annual revenue of $5 million. As of March, 2022, he has a fourth location in Beaverton, Oregon.
Posts About Moberi on Shark Tank Blog
Moberi Information
KickStarter Video: