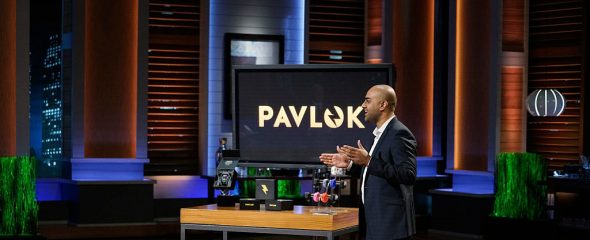 Maneesh Sethi hopes the Sharks get a charge out of Pavlok, the "shock clock watch" that helps you break bad habits and create good ones. It looks like a FitBit, but it's designed to use classic "conditioning techniques" to curb bad behavior. Using the accompanying app, you set the habit you want to break and the device automatically gives you a beep, vibration, or electrical "zap" when you engage in your bad habit.
The name is a twist on the age-old classical conditioning experiment physiologist Ivan Pavlov conducted on his dog. The electrical charge ranges from "pleasant to slightly uncomfortable." People use the device to stop smoking, stop eating sweets, stop nail-biting, and more. When you purchase one, you can download an e-book about breaking bad habits and the behavior modification involved.
The company got off the ground in 2014 when Sethi raised $283,827 in a wildly successful IndieGoGo campaign. He's currently running another campaign for the Shock Clock, an alarm clock you wear on your wrist.
With wearable technology and related apps becoming more popular, Sethi likely wants a Shark to help him make Pavlok the FitBit of behavior modification. Will a Shark get electrified by this device and invest?
Pavlok Shark Tank Recap
Maneesh comes into the Shark Tank seeking $500,000 in return for the unusual amount of 3.14% of Pavlok. He presents his wristband, explaining that a button on the watch releases a "mild electric sensation," to laughter from the Sharks. It's clear he's not getting their attention from the beginning.
Lori Greiner, in an effort to keep decorum in the discussion, asks how he came up with the idea. Maneesh explains that he once hired a friend to slap him every time he went on Facebook while he was supposed to be working. He found the method effective, and wrote a blog post about it, accompanied by a video, which went viral. The experience led him to design a wristband that would deliver a mildly unpleasant shock when the user engages in a bad habit.
He hands out samples, and demonstrates the differing levels of shocks available. The Sharks respond to the lowest setting with laughter, but the higher setting results in jumps and evokes a curse from Kevin O'Leary.
Maneesh explains the science, but Mark Cuban is unconvinced. "You're such a con artist," he says. Kevin wants to know about sales. Thus far, sales have reached $800,000. Three fourths of the sales have been pre-orders, and the rest prototypes. The product hasn't undergone extensive market testing yet, which may prove problematic with the Sharks.
The studies Maneesh has presented are of aversion therapy, not direct studies of the product itself. Lori Greiner is unimpressed with the lack of clinical studies. She says that, on a scale of "hero to zero," that this product is a "nowhere near-o." She's out. Robert Herjavec feels the valuation is extremely high. He's out. Mark Cuban is out for the same reasons as Lori.
Kevin O'Leary expresses interest. He worked on an aversion therapy study in college when studying psychology. He makes an offer. He'll give Maneesh the $500,000 in return for 3.14%, as a loan to be repaid over 2 years, at a rate of 7% interest. He tells Maneesh that if his financial projections are correct, he will be able to easily repay the loan.
Maneesh responds that he can't work with Kevin because he's "not focused on the money." He tells the Sharks that he would "take an offer from anyone but Mr. Wonderful." Kevin replies "F@@k You!, get the f@@k out of here!"
He leaves the stage without a Shark deal, and to curses from Kevin O'Leary.
Pavlok Shark Tank Update
The Shark Tank Blog constantly provides updates and follow-ups about entrepreneurs who have appeared on the Shark Tank TV show. Once an episode has aired, we monitor the progress of the businesses featured, whether they receive funding or not and report on their progress.
In the weeks and months following his Shark Tank appearance, Maneesh continued to market Pavlok. In interviews following the show, he expressed no regret at turning down O'Leary's offer. He didn't feel O'Leary would make an appropriate partner.
His dedication to "changing lives" may have obscured a bigger picture. How many more lives could Pavlok have changed if it were widely available, boosted by a Shark deal? As it is, only 10,000 units have sold since the Shark Tank appearance, not a shockingly high number for this habit-breaking wrist band.
In February, 2020, the company appeared in The Shark Tank Greatest of All Time Special in the "greatest Shark fight" segment. The scene where Kevin famously says to "get the f@@ck out of here" is featured.
2021 brings a fourth generation product to the fray. It is estimated the business is worth a million dollars which would put yearly sales at about $300,000. As of August, 2023, revenue has flattened. Poor quality products are the reason. Maneesh also recently introduced a hypnotizing wrist band. The company is celebrating its 10th year in business.
Posts About Pavlok on Shark Tank Blog
Pavlok Company Information
Video