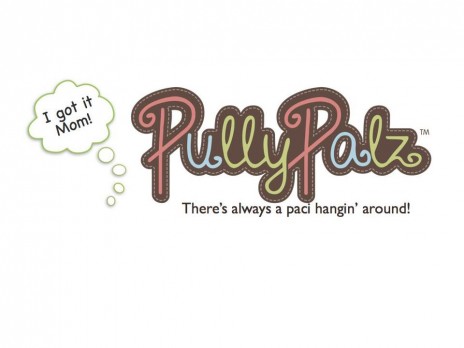 "Momtrepreneur" Julie Thompson pitches PullyPalz,  her solution to the lost pacifier problem, in Shark Tank episode 629. Julie got a Huggies Grant of $15,000 to help get her business started, but it was her unique idea that gained PullyPalz a lot of attention. The mother-of-two debuted the product at ABC Kids Expo 2012 and her booth was crammed with people in the baby products industry who kept saying "why didn't I think of that?"
Essentially, PullyPalz is two pacifiers attached by a string and mounted on a colorful stuffed animal. The string acts like a pulley system. When baby is sucking on one pacifier, the other is in plain sight and within reach. When baby loses the first pacifier – as babies are prone to do – he can grab the other one which brings the dropped pacifier back into view. PullyPalz keeps babies pacified while teaching eye-hand coordination, cause and effect, and right/left brain coordination.
Before airing, PullyPalz was in about 350-400 "mom and pop" baby boutiques. The product is widely available on Amazon and on the company website. Each PullyPalz costs $19.99 and is compatible with most pacifiers on the market. Thompson plans to introduce her own line of pacifiers and teething toys in the future. She's likely looking for a Shark to help gain entry to big box baby stores. Can she pacify a Shark enough to get some cash?
PullyPalz Shark Tank Recap
Julie enters seeking $100,000 for 20% equity in the company. She explains how PullyPalz works with a baby doll in a seat before handing out samples. Robert identifies with the problem.
Julie's had a little over $90K in 12 months. Julie says she gets most over her sales from trade shows. Then she introduces her new teethers and toys to fit in the pulley system. Mr. Wonderful wants to know how many babies are born every year. He wants to know what's holding Julie back; she says it's because she's a one woman company. She admits she's invested $125K, largely due to testing costs.
Robert can't get over the standard clips that are on the market, he's out. Mark thinks she has too much inventory, so he's out too. Mr. Wonderful thinks the product is overpriced, he's out. Daymond doesn't think the product has "hanger appeal" in big box stores, he's out.
Lori offers $100K for 30%, Julie waffles for a second and counters with 25%. Lori goes to 28% and Julie accepts!
RESULT: DEAL with Lori for $100K for 28% of the business
PullyPalz Shark Tank Update
The Shark Tank Blog constantly provides updates and follow-ups about entrepreneurs who have appeared on the Shark Tank TV show. This business shut down in 2016.
Posts About PullyPalz on Shark Tank Blog
Julie Thompson Pully Palz Interview
PullyPalz Company Information
Video