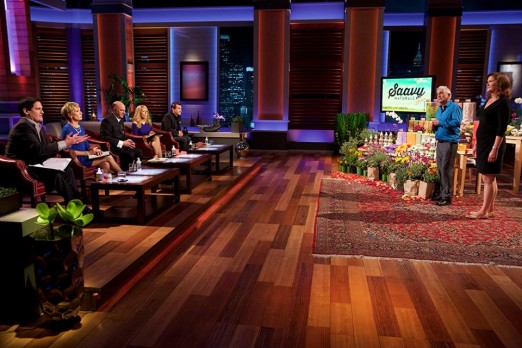 Former restaurateurs and personal chefs Hugo and Debra Saavedra pitch Saavy Naturals, their line of 100% natural, food-grade soaps and personal care products, in Shark Tank episode 708. The Saaverdas are avid gardeners and always incorporated herbs and edible flowers in their cooking. A few years ago, they started cooking up soaps and lotions with their flowers and herbs and Saavy Naturals was born.
Hugo and Debra use all natural, vegan, gluten-free, soy-free, palm free, non-GMO, responsibly sourced ingredients in their products. Everything they put in their soaps and lotions is food grade, so it's EDIBLE! They say your skin is the biggest organ in (or on) your body, so they care just as much about what goes inside as they do about what goes on outside. The skin absorbs what is put on it, so Saavy Naturals wants it to be ALL GOOD.
When they started their business, they were the darlings of the greater Los Angeles farmer's market scene. People loved their soaps, so they began selling them online through their website. Now Saavy Naturals is available on Amazon, and at Whole Foods, Clark's, Lassen's, California Fresh Markets and many more locations.
They likely want a Shark to infuse cash for greater production and distribution capabilities. Will a Shark eat soap?
Saavy Naturals Shark Tank Recap
Hugo and Debra open the segment at their home. They explain they're soul mates who found joy cooking together and then, pouring soap together. Previously, they built a nother company to $10 million in sales, but they lost controlling interest. They want to share a passion for food and beauty care with the world.
When they enter the Tank, they're seeking $220K for 10% of their business. They say their line is different than anything the Sharks have seen or tasted as Debra eats a piece of soap. All their soaps are made with food grade ingredients in their kitchen factory. As they hand out samples, Robert asks Barbara to try it. She does and says it "tastes like perfume and sugar." Lori clearly likes the product.
They explain they have experience building a soap company in the past, but they lost controlling interest in it. Hugo says they weren't savvy then, but they're savvy now. Saavy Naturals sales were $750K last year – all of it online. Margins are 30%-40% and they have good retail relationships in Southern California, New York, and Boston.
Mr. Wonderful doesn't like their valuation. He thinks it's a commodity product and they're worth about $400K. Mark says he thinks they are competitive with Simple Sugars, so he's out. Lori thinks the soap business is too competitive, she's out. Before a break, Barbara asks if they'd consider changing the name.
After a break, Robert offers $200K for 45%. Mr. Wonderful reiterates his valuation and says Barbara could help them run the company. Barbara offers $200K for 40% and she'll fund purchase orders. Hugo and Debra accept!
RESULT: DEAL with Barbara for $200K for 40% plus she'll fund all Purchase orders
Saavy Naturals Shark Tank Update
The Shark Tank Blog constantly provides updates and follow-ups about entrepreneurs who have appeared on the Shark Tank TV show. The deal with Barbara never closed. After the show aired, Saavy Naturals opened a new retail store in Pacific City, CA. At their airing party, they had Cousins Maine Lobster as caterers!
In June, 2021, the business was acquired by Arcadia Biosciences for an undisclosed amount.
Posts About Saavy Naturals on Shark Tank Blog
Will Saavy Naturals lather up?
Saavy Naturals Company Information
Video
So pure you can eat it!! Watch as Hugo feeds some Tahitian Vanilla & Kukui Scrub to a lady at the Gift Show in NY.