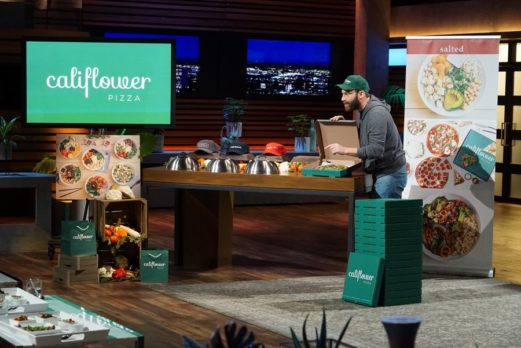 Jeff Appelbaum introduces the Sharks to Salted, his restaurants of the future, in Shark Tank episode 1124. Salted is actually a collection of businesses. The company is sort of an umbrella for different restaurant brands. What makes them different is they are designed for delivery or pick-up only.
By eliminating the dine in part of the restaurant, they feel they can offer a better value and better food while enjoying better margins. They currently have six restaurants or, as they call them, brands: Cauliflower Pizza, moonbowls (Korean Cuisine), Ginger Bowl (feel good Chinese inspired food), The $5 Salad Company, F/ck Gluten and Thrive Kitchen (low carb keto style food). Food is delivered through any food delivery app (GrubHub, DoorDash etc) in their markets. The company currently has its brands operating in Los Angeles, San Francisco, Chicago, and Columbus and they plan to expand to more cities in the future.
Salted has another business that it launched in 2018 too. They create meal kits like Blue Apron and Plated. The difference is, they put their kits in Whole Foods. Appelbaum says shopping in a physical store still makes up 80% of the grocery market. With their kits in stores, they don't have to spend huge money marketing to retain customers and they have a more eco-friendly footprint without all the shipping materials the Blue Aprons of the world use. Salted's kits are available in 2000 or so Whole Foods Markets, Gelsons and other grocers.
Mr. Appelbaum
Jeff is no stranger to eCommerce. He was the VP of Growth and Innovation at BeachMint and he is a founder of DealQuad, the leading group commerce site for college students. He has started the business with $750,000 in investment capital from nine different investors. In order to grow the company, he'll need more money and he's hoping a Shark will be one of the investors to give him some.
Company Information
Posts about Salted on Shark Tank Blog
Salted Shark Tank Recap
Jeff enters seeking $500,000 for 5% of his company. He explains the business model and hands out samples. The Sharks enjoy the food but have concerns. Sales are good – $1 million in sales, but the business isn't profitable.
There are also other in vestors that haven't seen a return, which causes more concern. He's also having problems with "getting to the top" of various delivery apps. Ultimately, Jeff puts off the Sharks and leaves with no deal.
Salted Shark Tank Update
The Shark Tank Blog constantly provides updates and follow-ups about entrepreneurs who have appeared on the Shark Tank TV show. Since airing, the company continues to operate in the four markets mentioned above and is actively hiring. They probably did well during the Covid – 19 lockdown.