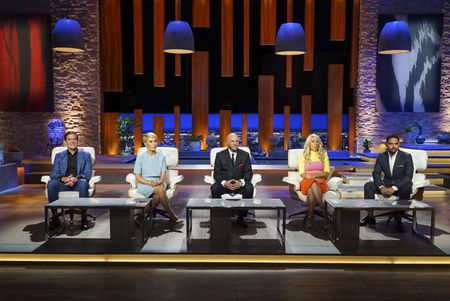 Rohan Oza returns in Shark Tank episode 1124 for his final appearance in season 11. He joins Mark, Barbara, Kevin and Lori in a special Wednesday night airing. The Sharks will be reviewing four new businesses seeking a Shark as a partner.
Eric Hartsfield and Brett Russel, two firefighters turned entrepreneurs, pitch Rescue Ready, their built in fire escape ladder for residences. Jeff Appelbaum introduces Salted, the "restaurant group of the future" that offers delivery only and has a food kit business as well. Manny Lubin and Josh Belinsky show off Slate, a healthier version of chocolate milk. Anthony Franco seeks an investment in mcSquares, his business collaboration tools company. Which business gets a deal tonight?
Tonight's update segment features a look at how various Shark Tank entrepreneurs are stepping up to help the public during the Covid-19 pandemic.
The Sharks
---
Barbara Corcoran
Rohan Oza
Entrepreneurs
---
Update Segment – Shark Tank Companies helping during the Covid-19 pandemic
There are 28 Shark Tank Episodes for Season 11. This season features more appearances by "guest Sharks," including billionaire Katrina Lake – Founder of Stitch Fix, Rohan Oza – "Brand Messiah" and founder of Vitamin Water,
Daniel Lubetzky – Founder of KIND, Matt Higgins – Entrepreneur and Miami Dolphins Vice-Chairman,
Maria Sharapova – Tennis Pro and Founder of Sugarpova and Anne Wojcicki – Founder of 23andMe.  Casting is currently closed, but it never hurts to get a head start on season twelve! If you would like to appear on the show, check out our Auditions and Casting information.
Episode 1124 – The Shark Investors and Entrepreneurs
The Shark Tank Episode 1124 entrepreneurs will make their best pitch to the panel of five Shark investors who will use their own money if they choose to invest. The Shark Investors negotiate on the spot without any previous information, which differs from typical negotiations between venture capital investors and entrepreneurial start-ups.
Companies pitching the Shark Investors must go through a rigorous due diligence process before an on-air deal is completed. Shark Tank Blog follow ups help you keep track of the companies that end up successful and the ones that don't complete their deal.
Thank you for reading SharkTankBlog, the number one site for Entrepreneurs, Investors and Fans. Our content updates multiple times day, giving you the latest information on Episode 1124, Season 11, and all other seasons and episodes.
Episode 1124 Press Release
Shark Tank: Episode 1124 (5/13)
BRANDING EXPERT ROHAN OZA RETURNS TO THE TANK ON AN
ALL-NEW EPISODE OF ABC'S 'SHARK TANK,' WEDNESDAY, MAY 13
"Episode 1124" – An entrepreneur from Denver, Colorado, has an ingenious line of office products that makes working or learning more functional and eco-friendly. Firefighters from Norfolk, Virginia, believe they have a safety product that will save lives. A pair of entrepreneurs from Westwood, Massachusetts, introduce their healthy take on a favorite childhood drink, while a restaurateur from Los Angeles, California, pitches the Sharks what he believes is the future of restaurants on "Shark Tank," WEDNESDAY, MAY 13 (10:00-11:00 p.m. EDT), on ABC. (TV-PG, L) Episodes can also be viewed the next day on demand and on Hulu.
And in a special "Shark Tank" update, we catch up on how numerous "Shark Tank" companies are helping during the coronavirus pandemic.