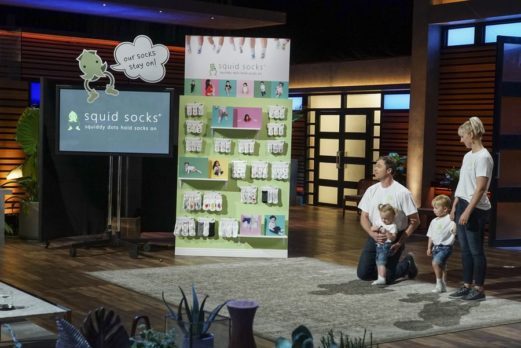 Gabe and Jessica Miller pitch Squid Socks, their baby socks that won't fall off, in Shark Tank episode 1104. The term "squid" is what they call their kids, so naturally Squid Socks was an appropriate name for their business. Gabe, an Engineer, and Jessica, a Business Operations Manager, first got the idea for their product while visiting Gabe's cousin in England back in 2014. The childless (at the time) Millers noticed the cousin's son was constantly taking off his socks (when they weren't falling off).  The then newlyweds started brainstorming about a solution to the problem and they came up with the first Squid Sock designs.
Now, the Millers have two kids of their own and daily "proof of concept." Kids have a very difficult time taking their socks off! The secret is little silicon "squid dots" around the top of the sock which have a light grip. The dots make it hard for the socks to come off. They added more dots on the sole of the socks to prevent slipping. There's also elastic banding around the top of the sock so it wears like a high performance athletic sock.
Squid Socks are made with a blend of nylon, polyester and spandex that ensures a snug fit. They're also moisture wicking, shrink proof and resistant to stretching. They color the socks with dye-sublimation that chemically bonds colors and designs to the fabric. This makes fading non-existent. In addition to their mission to keeps kids' socks on their feet, they also have an Ocean Mission: 10% of their profits goes to The Coral Reef Alliance.
Socks come in 4 sizes for newborns, babies and toddlers. There are dozens of styles for boys, girls and "gender neutral." Three pairs cost $24, with three different designs in a package. Squid Socks are available at Nordstrom and on the company Amazon Store. The couple likely wants a Shark to help them manage growth and provide capital for expansion. Will the Sharks like these squids?
Company Information
Video

Posts about Squid Socks on Shark Tank Blog
Squid Socks Shark Tank Recap
Gabe and Jessica enter seeking $125,000 for 20% of their business. They demo the socks with their kids and hand out samples. Once the kids are gone, they share that they want a strategic partner to help them grow the business. They also need help with manufacturing. They've done $400,000 in sales over the past 16 months which includes a period  of downtime while they switched manufacturers.
Robert makes the first offer of $125,000 for 40%. Daymond comes in and offers $125,000  for 33.3%. Lori then asks if Daymond would team up with her and he says no. Robert then ups his bid to $250,000 for 40%. After some discussion, Robert comes down to $125,000 for 30%. Ultimately the Millers go with Daymond who wants to help them license their socks.
Squid Socks Shark Tank Update
The Shark Tank Blog constantly provides updates and follow-ups about entrepreneurs who have appeared on the Shark Tank TV show. The deal with Daymond did close and he  checks in on the Millers regularly. In the aftermath of the original air date, it took the Millers two weeks to fulfill the orders that came in. Daymond's influx of cash went to getting more inventory. You can buy Squid Socks HERE.
As of November, 2022, the company is still in business and is on the shelves at Bed Bath & Beyond, Amazon and dozens of mom and pop stores across the country. Annual revenue is $3 million.