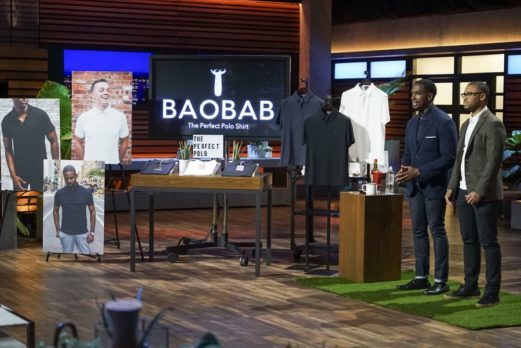 Brandon Davenport and Marcellus Alexander III hope to find a fit for Baobab, their "perfect polo shirt," in Shark Tank episode 1104. The Baobab tree is the inspiration for the company name. It's a tree that grows in both Africa and Australia. According to legend, the tree can live thousands of years and provides nourishment to those who collect its fruit and water. Just like the tree, the shirts promise to last a long time.
Brandon and Marcellus decided to start the business while working in New York City. The two tech entrepreneurs successfully started and sold a venture and were looking for a new opportunity. They both liked wearing polo  shirts because they went well with any clothing: from a sport jacket to sweat pants. What they didn't like was the poor quality of the polo shirts they were buying. Colors faded, collars warped and they just didn't last.
The two men set out to make the perfect polo and Baobab was born. They "engineered" their shirts for over a year. Using nanotechnology, they came up with a fabric that is stain resistant, color-fast, antimicrobial (you can wear it 10+ times without washing it) and pre-shrunk. The secret sauce is their patented stay-flat collar. As an added kicker, there's a microfiber cloth sewn into the inside bottom right of the shirt for cleaning glasses and smart device screens.
The guys got their business off the ground in 2017 with concurrent successful Kickstarter and IndieGoGo campaigns that raised $57,645. They delivered product about nine months after the campaigns closed. The shirts come in black, blue, white and grey and cost $88 for a short sleeve and $98 for a long sleeve. They proved the concept, now they want a Shark's help taking it to the next level. Will a Shark think these shirts are a good fit?
Company Information
Video

Posts about Baobab on Shark Tank Blog
Baobab Shark Tank Recap
Brandon and Marcellus enter seeking $150,000 for 10% of the business. They tell their story and hand out samples. The Sharks like the samples, but not the numbers. To date, they only have $83,000 in sales. That, coupled with the fact the shirt material isn't proprietary causes all the Sharks to go out.
Baobab Shark Tank Update
The Shark Tank Blog constantly provides updates and follow-ups about entrepreneurs who have appeared on the Shark Tank TV show. The company is still in business selling on their website as of July, 2020. They started making facemasks during the pandemic, too. In April, 2021, they raised $103,459 on crowdfunding site Republic. As of June, 2022, they are doing between $900,000 and $1 million in annual revenue.