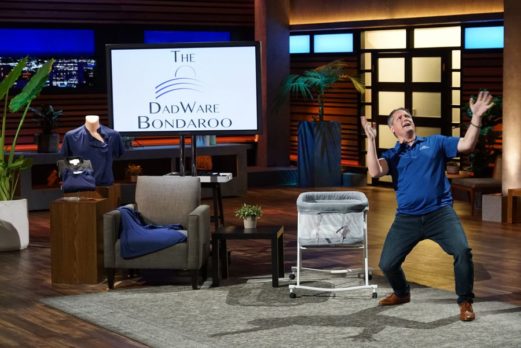 Nick Baker seeks an investment for The Dadware Bondaroo, his "kangaroo care" shirt for dads, in Shark Tank  episode 1123. Baker got the initial inspiration for his product when his daughter, Eva, was born. His wife had a particularly painful labor and didn't feel prepared to hold her newborn child right away. When babies are born, the doctor or nurse will usually place the baby on the mother's chest. The skin to skin touch is reassuring to the newborn and it helps mother and child bond.
Since Dawn, Nick's wife, didn't want the first bonding experience to be negative (due to her pain), Nick took off his shirt and nuzzled his new born daughter on his chest. Once home, he continued the practice. When he got sick of taking his shirt off all the time, he cut strategic holes in old tee shirts for easy access. The tee shirts didn't pass the "wife test," so Baker designed a shirt with a flap and Velcro fastener and The Dadware Bondaroo was born.
Kangaroo shirts have been available for moms for a long time. They're sometimes called nursing shirts. The concept for this kind of shirt for men is relatively new, but there are others out there. The Dadware Bondaroo is made in the USA (in Los Angeles) from French terry cloth. The Velcro fasteners are rounded so there are no sharp corners to poke baby. The Bondaroo lets dads look fashionable while still having quick access to that precious skin on skin bonding experience. You can find them on Amazon for $39.99. Baker sells online only now, but he'd like a Shark's help with broader distribution.
Company Information
Video

Posts about The Dadware Bondaroo on Shark Tank Blog
DadWare – Bonding Shirts for Dads
The Dadware Bondaroo Shark Tank Recap
Nick enters the Shark Tank seeking $100,000 for 20% of his business. He gives a very energetic pitch in explaining his background and how he came to invent the product. Sales for the year are only $100,000 and the Sharks are struggling to see the relevance of the product Nick is visibly upset when the Sharks all go out, but he vows he'll make his business successful.
The Dadware Bondaroo Shark Tank Update
The Shark Tank Blog constantly provides updates and follow-ups about entrepreneurs who have appeared on the Shark Tank TV show. As of July, 2021, a year and two months since appearing, he's done around $1.2 million in sales. The company now has long sleeve shirts and they introduced a Momware Bondaroo nursing shirt. The products are available on Amazon.
In August, 2023, the social media hasn't been updated since January, 2022 and the website is gone: it redirects to a scammy biz opp site. The products are also "currently unavailable" on Amazon. While Nick still lists the business as "open" on his LinkedIn profile, it's apparent this business is done.