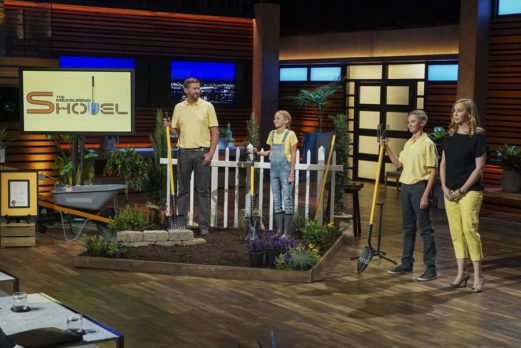 Maddox Prichard and his mom, Amanda, seek a Shark to invest in The Measuring Shovel in Shark Tank episode 1107. Maddox invented The Measuring Shovel as an entry into the Middle Tennessee State University Invention Convention in 2016. They liked his product so much, he won first prize for his grade level (5th grade).
It also earned Maddox a trip to Washington, D.C. for the very first National Invention Convention at the United States Patent Office. Once again, Maddox earned kudos, winning the Household Organization and Tools Award, sponsored by Stanley Black & Decker.
Maddox's middle school principle believed in the invention the first time he saw it and encouraged him to get it patented. That's just what Maddox's parents did, too. They filed the patent in his name. He actually created the prototype for the invention in about a half hour with a standard shovel, some duct tape, a ruler and a magic marker. To date, Maddox isn't selling the product, in fact, he doesn't even have a website! He likely wants a Shark to help him navigate the ups and downs of starting a business. Will a Shark dig in to this product?
Company Information
Twitter
Video

Posts about The Measuring Shovel on Shark Tank Blog
Measuring Shovel – The Shovel That's Also A Ruler
The Measuring Shovel Shark Tank Recap
Maddox and Amanda enter the Shark Tank seeking $40,000 for 15% of their business. They tell their story and give their pitch, then let the Sharks come onstage to dig a hole. The business is pre-revenue and they'd like a Shark to help them bring the product to market. There is debate among the Sharks about whether they should manufacture the product or license it.
The Shark like Maddox and he gets a couple of offers. Kevin and Lori offer $40,000 for 30% (15% each). They want to license the product to a company. Daniel wants to manufacture the shovels and sell them in big box retailers. He offers $40,000 for 25%. After talking things over, Maddox opts for Lori and Kevin's deal.
The Measuring Shovel Shark Tank Update
The Shark Tank Blog constantly provides updates and follow-ups about entrepreneurs who have appeared on the Shark Tank TV show. The deal with Lori and Kevin never closed. Maddox does have a website now though. As of November, 2022, the shovels are not for sale, but the company's new Facebook page states "we haven't given up."
As of August, 2023, the status of this business remains unchanged.