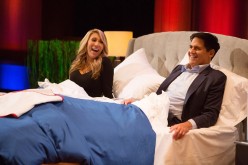 Bed Jet inventor Mark Aramli decided designing consumer products and starting his own business was more exciting than designing space suits for NASA, so in 2013 he decided to do just that. Aramli pitches Bed Jet to the Sharks in episode 616. BedJet is a climate control system for your bed; in the cold winter months it warms your bed up and in the hot summer months it cools the bed off. With two Bed Jet units, you can actually have zone heating and cooling in a king size bed. Think of it as a "sleep number" for temperature control.
The Bed Jet almost looks like a mini jet engine, but it's a heating and cooling device. It pumps warm or cooled air in between the sheets via a small duct attachment. The Bed Jet folks say it's far more energy efficient than electric blankets; it's safer, too – when you think about it, with an electric blanket you're basically sleeping under a bunch of wires. Electric blankets don't have thermostatic controls either; the Bed Jet does.
At $499, it's a bit pricey, but it's still about the same money as a quality air conditioner unit. Aramli's background at NASA gives him that "engineer's edge" when designing products, so it's probably very well made. The Kickstarter community thought so, Aramli raised $58,551 on a $38,000 goal.
My Take on Bed Jet
We have a California King-sized, Tempurpedic mattress. It's very comfortable, but we bought ours before the "cooling gel" technology and it tends to heat up when there are bodies in the bed. A BedJet would keep our bed at an even temperature. If we got one, we'd need two so we could have the dual zone option; my wife gets chilly when it's less than 70 degrees!
You can control your Bed Jet with an included remote or with a smart phone app. Imagine warming your bed up before you get home so it's nice and toasty when you crawl in! Bed Jet also makes specially ducted comforters to disperse heated or cooled air evenly.
This is a very neat appliance. I think it's a bit pricey now, but I'll bet the prices come down with economies of mass production. It probably has some energy saving benefits, too.  By creating a little micro-climate inside your bed, you can turn down the heat in winter and the AC in the summer. It's something I'd definitely want some day, Bed Jet is a winner.
Do Sharks get in Bed?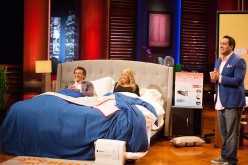 The short answer is, yes, the Sharks DO get in bed! Lori and Mark look like they're having about as much fun as you can in bed with your clothes on! Robert tries it out too, and he looks just as pleased. While liking a product demo is one thing, liking the business as an investment is a whole different kettle of Sharks.
Successful Kickstarters always have a leg up in the Tank since the business or product has some proof of concept, but it still has to be a viable business. Having an intelligent entrepreneur at the helm doesn't hurt and Mr. Aramli appears to be the real deal. He has a good product and proof of concept, all he needs is some sales to seal a deal with a Shark.
I think Bed Jet fields an offer or two and does a deal. They re-vamped their entire website the week before the show and announced they are in production and fulfilling orders. The $58K they raised on Kickstarter helped them with the first generation production run, to do a big run probably required an infusion of capital and the Sharks have that. The real question is which Shark gets into bed with Bed Jet?