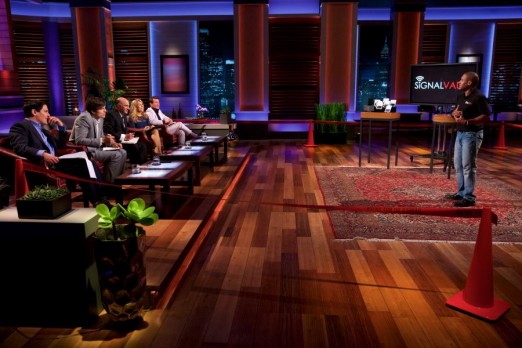 Chris Gilpin got lucky when he started Signal Vault. Back in 2013, he was working for his dad's 's nonprofit National Crime Stop Program while turning the idea for SignalVault around in his mind. Gilpin played the Florida Lottery regularly, taking one or two "quick picks" every week. In July, 2013, he matched 5 out of 6 numbers, earning him a little over $7900 in winnings. He told dad he was quitting his job and set out to make Signal Vault a reality.
The SignalVault Credit and Debit Card protector is a credit card-sized device that contains a microchip that blocks scanners designed by thieves to steal personal data. Using his lottery winnings as seed money, Gilpin built the first prototypes and began marketing the product; then he had his second run of good luck.
Around the time he was getting Signal Vault rolling, the massive Target data breach occurred (millions of consumers had their personal financial data compromised when Target got hacked). This event brought credit and debit card theft into the national limelight and Gilpin soon found himself swamped with requests for interviews as an expert on credit card fraud. This brought SignalVault priceless publicity; as a result, the business took off. Each Signal Vault costs about $15 and Gilpin sells them in multi-packs of up to 500.
My Take on Signal Vault
Both my wife and I have had our credit card data stolen, it's a royal pain in the neck. We haven't been hurt by it, but the potential in this day and age is always there. A $15 "security blanket" is something I'd want in my wallet, a lot of other folks will, too. I think Gilpin is going to make a boatload of cash when this episode airs – he's using a newly designed Shopify website to handle what's sure to be server crushing traffic. I am solidly "IN" on Signal Vault!
Will Gilpin get lucky a third time?
Getting on Shark Tank has odds nearly as long as winning the lottery, so in a way, being on the season 7 premier is a "third time's a charm" event for Chris. If a Shark invests, then I'd have to say Gilpin is the luckiest entrepreneur in the history of the show!
I think he'll field multiple offers. Robert will likely tout his expertise in internet security and be a strong player. Lori, not normally a tech company investor, will see SignalVault for what it is: a low-priced, mass consumer product that virtually everyone needs; she'll be a player too. Mr. Wonderful will likely offer a deal that includes a royalty (what a surprise). Newbie Shark Ashton Kutcher will bid, too. He likes tech companies. Watch for Mark to remain silent throughout the bidding and swoop in with an offer after all the Sharks have laid their cards on the table. I wouldn't be surprised to see several Sharks teaming up to bid on Signal Vault!
I predict Chris Gilpin leaves the Tank with a deal with more than one Shark. The question is, which ones?