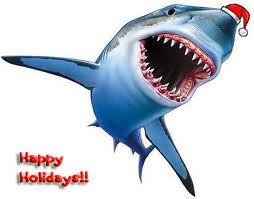 The Holidays are upon us, which means a bunch of Shark Tank re-runs leading into Christmas and the New Year. What with Christmas specials and many people focused on holiday shopping and other festivities on Friday Nights in December, ABC is opting for re-runs of season three episodes during the holiday season. On Friday, November 30, episode 302 will re-run; on December 7, it's episode 303; and on December 14, we'll see episode 311 (the infamous Scott Jordan episode).
Shark Tank Holiday Episode
In a departure from Friday nights, ABC is dishing up a Holiday themed episode on Tuesday, December 4. There have been rumors that ABC may move Shark Tank from Friday night to capitalize on the show's popularity. Maybe the "Shark Tank Holiday Special" is an experiment to test a new time slot; time will tell. In keeping with the holiday theme, a Christmas Tree rental service is featured in the holiday episode. Whether that is the only nod to the holiday season for new, season four episodes remains to be seen. As it stands now, there are no new, season 4 episodes scheduled to air before Christmas, but that could change, especially if ABC moves Shark Tank to a different night.
Season Three Entrepreneurs hope for Holiday Gift Orders
The entrepreneurs featured in upcoming re-runs hope to see a bump in orders during the gift giving season. This is the first holiday shopping season since Shark Tank became a HUGE ratings hit and cultural phenomena. Entrepreneurs airing during the holidays should be able to capitalize on the shopping season by converting fans into gift buyers. I will be giving many Shark Tank gifts this season, many of the entrepreneurs are hoping I am not alone.
Businesses featured in re-runs have had the chance to make tweaks to their websites and beef up inventory to fulfill gift orders. Many Shark Tank entrepreneurs sell products on Amazon, the popular and trusted grand daddy of eCommerce shopping sites; these businesses in particular are well prepared to cash in on the holiday shopping season.
Whether Shark Tank moves to Tuesdays permanently or goes back to Fridays in the New Year, new episodes will be airing soon! We'll be profiling all the new entrepreneurs for episode 409 next week. In the mean time, here's a sneak  peak video: