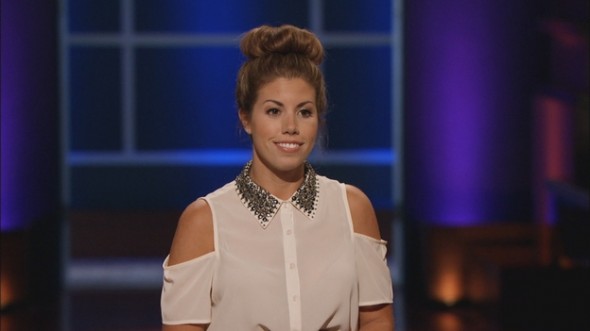 Nicole Townend was nervous when she walked down the hall to enter the Shark Tank. The creator of Teddy Needs a Bath was nervous for the usual reasons and more. About twenty minutes before she went onstage, her daughter spilled hot coffee all over herself and needed to go to the infirmary at the Sony Pictures lot! Just a few minutes before going on-air, her husband let Nicole know she was OK, but as any parent can tell you, an incident like that will fray your nerves in any situation, let alone a high pressure environment like the Shark Tank! I spoke with Nicole Townend recently and she shared some insights into her appearance and the progress of Teddy Needs a Bath.
Nicole Townend on the Road to the Shark Tank
Nicole Townend applied to be on Shark Tank at 2 in morning one day  in January 2012 and didn't hear a thing  for 3 months. "After I applied, I didn't give it another thought. When they called back, that's when the anxiety kicked in. The producers' interest picked up when they found out Teddy Needs a Bath was on the Babies R Us website."
Nicole Townend was eventually scheduled to tape in August, 2012. "I was in the Shark Tank for about an hour. I taped with Xeroshoes, Steve and Lena were fun to hang out with. I also met the PartiePoche people and the Cuddletunes guy. One girl was bawling when she left the Tank."
Nicole Townend faces the Sharks
Nicole read the Sharks' books and watched every episode to prepare for her moment on the carpet. "I wasn't a fan of the show before I applied, but I became one! I was stressed about what the Sharks could do to my brand, so I wanted to play it smart. Sharks don't like arrogance. I could have been arrogant because I love my product. Everyone thinks their product is worth a million bucks."
"I totally changed my pitch a few days before taping. I was originally asking 150K for 15%. After watching a lot of episodes,  I saw many people asking for too much money. I didn't want to lose out on talking about my brand instead of money, so I changed my investment amount to $50K; it was a less intimidating amount; it allowed me to get right to talking about the brand. I also changed the pitch to relate to parents in general instead of just telling my story. I really focussed on the $12K in sales from Babies R Us; the Sharks liked that. Robert even asked if I had kids."
As usual, a lot of what happened to Nicole Townend in the Shark Tank got left on the cutting room floor. "I politely thanked each shark, they never showed me thanking them. Why wouldn't they show that? Lori actually made an offer too. She came back in when I introduced the dryer sheets. Even though there were parts I would have shown, I was very happy with the outcome. I felt like I was over-prepared; they never caught me off guard."
Teddy Needs a Bath After the Show
"Our website didn't crash; we had 21,000 visitors as the show was as airing and  100,000 over the following 24 hours. We were hosting on WordPress on a private server, but we moved to a  bigger server and an ecommerce site with Shopify before the show. A lot of traffic converted to sales. I  had my iPad out and was watching the website as it aired; the iPad kept going 'ding ding ding ding ding!'   We had over 1000 orders by the Tuesday after show day. People were ordering 3-4 at a time. Our exclusive retailer on Amazon went through as much as we did and Babies R Us sold out of the 500 units they ordered for online."
"Since the show, we're going into all the Babies R Us stores and we'll continue in their online store. We just finalized a deal with Bye Bye Baby to go on their shelves too. We actually pushed Babies R Us back to March so we'd have product for the Shark Tank."
Nicole is expanding the Teddy Needs a Bath line. "We have a pet toys bag we're introducing and I have a 'kit' that comes with a soft bristle brush, bag, dryer sheets, and a book. It's a little higher price point." Nicole plans on expanding the book line too.
Nicole made a connection with Mr. Wonderful. "I'm trying to email Kevin. I want to thank him too. He was such a nice guy. Since I taped, I've become a real fan of the show; I actually  bought some Hot Tot hair products for my three-year old daughter. I wish I had a SoundBender, too. I think my favorite of all the Shark Tank Products is the Chord Buddy; it looks like a good product, I'd like to try it."
Dealing with Mark Cuban
Mark Cuban and Nicole Townend did do a deal, but it's different than the one made on air. "Mark said he'll fund PO's and he loaned me the money, he'll take another note to factor PO's at a much better rate than the typical 15-20% PO Factors  usually charge. It was the biggest favor I ever got. Mark's great, he responds to emails in like 20 minutes- he doesn't micro manage – he handles his own email. I feel like he's really gone further out for me, his wife uses the product too. He basically told me I  couldn't afford a royalty. Instead of an investor, he became my financier and advisor."
Nicole had lots of other good advice. Her dad is the VP of Marketing for a Fortune  500 Company and her father in law, a former professional surfer, owns a brand management consulting and marketing firm. Nicole's husband, Tosh, is a professional skateboarder; he has a lot of experience working with brands through endorsement deals.
What's next for Nicole Townend?
Teddy Needs a Bath is moving in the right direction. Nicole has sales and Purchase Orders. "We're making money, but I'm not paying myself yet. I want to see the company make money before I take a salary."
Nicole couldn't be happier about being one of season four's Shark Tank Success stories. "I think if it's done correctly, Shark Tank can be the best thing that happens to your brand.You think big you get big. I believe in the law of attraction, if you think negative thoughts, you'll run into negative things; if you think positive thoughts, positive things will happen."
I asked Nicole's thoughts on another question. She answers at The Hot Dog Truck.