This post brought to you by ableBanking. All opinions are 100% mine.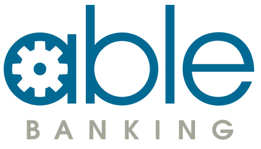 The Christmas season has always been a season of giving. Couple the spirit of the season with getting year end tax deductions in order, and you have a nice recipe for charitable giving. Like many, our family helps our favorite charities at this time of year. Whether it's a local youth sports organization, the Boys and Girls Club, Toys for Tots, or our Church, we give a little extra at this time of year.
Normally, banks don't fit into the charitable giving equation, but ableBanking is looking to change that. As an online subsidiary of stalwart Northeast Bank, a Maine banking institution since 1872, ableBanking brings the security of a stable, secure bank to the internet banking world. As a completely online bank, ableBanking doesn't have all the overhead of a brick and mortar bank. Less overhead means better rates for depositors, and a more charitable business plan from ableBanking.
Most banks will give you a pen or some equally inane promotional item when you do business with them. They'll also deliver interest on a savings account that makes putting your money under your mattress an attractive option! ableBanking wants to change that.
With ableBanking, depositors will get interest rates on savings accounts and CD's as much as ten times higher than that of a traditional bank. And, to sweeten the pot in this giving season, ableBanking will give $25 to the charity of your choice just for opening an account. They'll also give .25% of your average daily balance every year on your "able Anniversary." To date, they've sent cash to nearly 200 charities from their thousands of customers.
If you are giving to your favorite charity this season, think how much they'd benefit if you could give an extra $25. What is your favorite charity? What would you do with extra money each year just for having a savings account? Would you give the savings to to your charity or spread some Christmas cheer some other way? ableBanking lets you answer these questions for yourself, with real money!
If you'd like to earn a better rate for your savings account, and you'd like to help a deserving charity, check out ableBanking. You can also check out the ableBanking Facebook page and even follow them on Twitter @ableBanking.
Give yourslf a present with higher returns on savings and give to your favorite charity at the same time.
Merry Christmas, ableBanking!