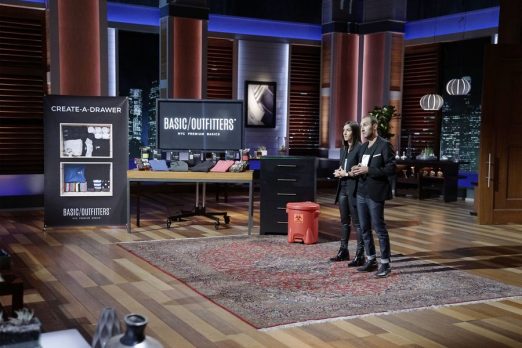 Laura and Michael Dweck hope to find the right fit with a Shark when they pitch Basic Outfitters, their online sock and underwear business, in episode 813. The couple married in 2014 and got the idea for the business when Michael needed to refresh his supply of socks and underwear. According to Laura, when they married, she "made Michael dispose of 90% of his basics drawer that were filled with really old and really holey pieces. He just wanted a quick and easy way to refill his drawers without having to burn a paycheck. When he couldn't find anything to satisfy those needs, we created the solution."
Laura states that men keep their underwear an average of 7 years! Their flagship "Create a Drawer" service lets men chuck out their whole sock and underwear drawer and start fresh for just $60. Each Basic Outfitters "drawer" contains three pairs of briefs, 8 pairs of socks, three tee shirts, and a "wild card" item.
Customers can also buy different articles "a la carte." Underwear costs $30 for a three-pack, socks are $20 for a four pack, and tee shirts are twelve bucks. Clearly, the Create a Drawer package is the best value. Basic Outfitters subscribes to WRAP. All of their factories are WRAP (Worldwide Responsible Accredited Production) Certified which ensures ethical, safe, lawful and humane manufacturing.
The Dwecks likely need a Shark's cash to fuel expansion and expand inventory. Will they create a partnership?
Basic Outfitters Shark Tank Recap
Laura and Michael enter seeking $125,000 for a 10 percent of their company. Early in the pitch, they reveal they only own 25% of their company, which discourages the Sharks. Sales are projected at $500,000 for the year.
Mark likes the idea, but not their execution, he's out. Robert can't get over the equity split, he's out. Daymond goes out for the same reason. Kevin likes the business and offers $125,000 for 25 percent, contingent on the percentage coming from the other investors. Lori duplicates Kevin's offer. When Laura and Michael counter with 15%, Kevin goes out. Lori initially counters with 20%, but goes out due to the uncertainty surrounding the other investors.
Basic Outfitters Shark Tank Update
The Shark Tank Blog constantly provides updates and follow-ups about entrepreneurs who have appeared on the Shark Tank TV show. Despite not getting a deal, Basic Outfitters EXPLODED after Shark Tank with sales rising 1000% to $5 million. They beefed up their Amazon store, started doing brick and mortar "pop-up" shops, and partnered with Jet Blue. Their products are in Jet Blue's Mint amenity kits. Both were named to the Forbes 30 Under 30 list in 2018.
The couple "exited" the company in June, 2019. There is no more information as to who acquired the business, but in a 2021 update, their Facebook has been quiet since January 2020, products their Amazon Store are "currently unavailable," and their website has no way to buy product. I guess they're done.
In September, 2022, the website was redesigned and it says "this shop will be powered by Shopify." Could this mean the company is rising from the ashes? Time will tell. In June, 2023, the status is unchanged.
Posts About Basic Outfitters on Shark Tank Blog
Basic Outfitters Company Information
Video