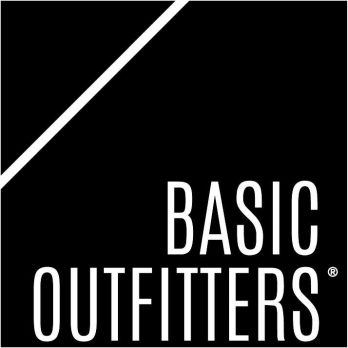 Basic Outfitters co-founder Laura Dweck got so fed up with the condition of her husband Michael's socks and underwear that she threw most of them away after they married in 2014. She couldn't stand the old, hole-filled garments taking up valuable drawer space in their New York apartment. Like most guys, Michael holds on to his socks and underwear for far too long. In fact, most men keep their socks and underwear for seven years or more!
When he needed new socks and underwear, he didn't want to shell out big bucks to re-fill his drawers, but he had difficulty finding quality, affordable stuff. That's when they got the idea to start Basic Outfitters. Their signature Build a Drawer service ships three pairs of undies, 8 pairs of socks, three tee shirts, and one "wild card" item for $60. Customers can set up regular shipments so their socks and underwear drawer is always full of new, clean, hole-free garments.
People can also buy individual items from Basic Outfitters. Currently, they only offer men's undergarments, but perhaps they want to expand to women's wear too. They probably want help from a Shark building their brand and expanding their product offerings.
My Take on Basic Outfitters Socks and Underwear
I'm like Michael and my wife is like Laura. In our house, laundry is primarily my wife's regular duty. Every once in a while, she'll purge my underwear (I don't wear socks often – so the few pairs I have last a long time). As if by magic, new underwear appears in my drawer – usually in the form of a birthday or Christmas present.
I am like most men: we let the women in our lives buy our socks and underwear. A study by a British department store reveals men only buy underwear for 17 years of their lives. The rest of that time, either their mother or significant other buys them for him. Buying underwear isn't a chore, but most guys are content with "vintage" undies from years past.
This is why Basic Outfitters will be a success. Women will buy it for their guys. It's convenient, moderately priced, and an easy way to elicit a purge of a guy's underwear drawer. They also use WRAP (Worldwide Responsible Accredited Production) Certified factories, which means they don't use "sweat shops." For that reason, I'm in.
Will Sharks Want to get Outfitted?
This is a solid business built on a very real premise. Guys won't throw their socks and undies away and women will buy them. Cost of customer acquisition will likely be a big factor with the Sharks; it always is for subscription model businesses. Given the press they've received, the business seems to have good sales, so there should be an offer or two on the table.
What it comes down to is whether or not the valuation is good. I could see Mark jumping on this business. He made an offer for Foot Cardigan, a men's sock subscription service, back in season seven, but the deal never closed. Basic Outfitters takes a less outrageous approach to selling socks and underwear and it might resonate with Mark.