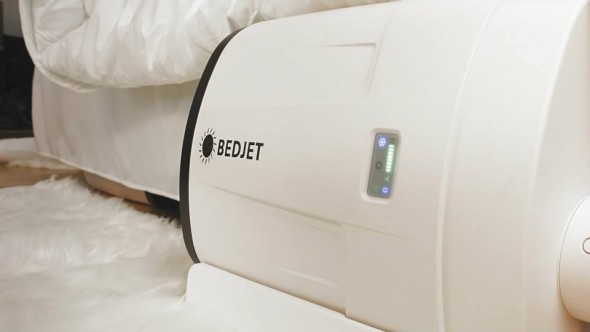 Former NASA space suit primary life support system engineer Mark Aramli pitches BedJet, a climate control system for beds, in Shark Tank episode 616. Aramli got tired of working for big businesses and decided to get into the consumer products business. In late 2013, he launched a successful Kickstarter campaign which raised $58,551 – overshooting the $38,000 goal by $20K!
BedJet is billed as climate control for beds. Think of it as a "sleep number" for bed temperature. Essentially, it's a fan assembly with heating and cooling elements controlled by a bedside remote (or a smart phone app). The BedJet sits under or adjacent to your bed and a little air duct feeds between the sheets. On those cold, winter nights you can heat up the sheets like they just got out of the dryer; on a hot summer night you can literally air condition your bed. The air flow creates a "tenting effect" which distributes air evenly throughout the bed.
Have two people with differing temperature sensitivities in the same bed? Get a second BedJet and get another climate zone! Each Bed Jet costs $499 and they are only available online. Other products in development include a specially ducted "dual zone" comforter.
BedJet likely wants a Shark's help with manufacturing and distribution. Can Mr. Aramli put a deal to bed with a Shark?
BedJet Shark Tank Recap
Mark enters seeking $250K for 10% of the company. He explains the product and the smartphone app, then invites Mark and Lori to try it. They get in bed together and he explains the dual zone feature. Mark leaves and Robert crawls in the bed with Lori.
Mark explains he's in pre-production, but he explains he has buyer sample requests from major mattress manufacturers. The current price is $499, which Kevin thinks is way too high. Mark then explains he has a PO for $1.4 million from an Australian mattress manufacturer.
Mark Cuban wants to know the "secret sauce." Aramli says it's the only product of its kind. Lori wants to know what happened with other mattress manufacturers, but Kevin interrupts. Mark addresses Kevin and Lori gets frustrated he hasn't answered her question, she's out.
After a break, Lori says she's mad Mark ignored her. He says the path forward is to sell where people buy mattresses. Mark Cuban didn't like his answer about the technology, he's out. Barbara doesn't think it will sell, she's out. Kevin sees a disaster on the horizon, he's out. Robert doesn't have a problem with the price point, but he thinks he's being too "salesy," he's out.
Mark goes back to Lori, she's still mad about being ignored and says if Mark valued her, he would have paid attention to her.
RESULT: NO DEAL
BedJet Shark Tank Update
The Shark Tank Blog constantly provides updates and follow-ups about entrepreneurs who have appeared on the Shark Tank TV show. The company closed its deal with Mattress Firm to sell on their website. What is clear is Kevin was wrong when he said "You will never sell this device, it will never happen, the product is dead already." They did over $1 million in sales in 2015 and tripled that the following year. This business went on to make HUGE sales on Amazon.
In December, 2020, the company announced the sale of its 100,000th unit. They also introduced an aromatherapy kit designed to integrate with the BedJet Climate System. As of October, 2023, they are very much in business with $5 million in annual revenue and over $335 million in lifetime sales. They're on their third version with the Bed Jet 3.
Posts About BedJet on Shark Tank Blog
BedJet Company Information
Video