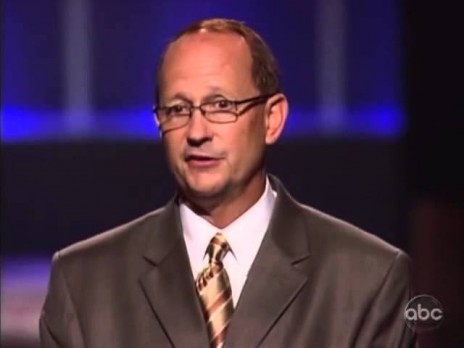 Michael Schiavone hopes for a sweet deal for Caffeindicator, his caffeine litmus test sugar packets, in Shark Tank episode 114 .
On a business trip with his wife, Shiavone stopped for a late-night cup of coffee. He ordered decaf, but spent the rest of the night feeling jittery and anxious, unable to sleep. The experience gave him the idea for the Caffeindicator, a litmus-test type product that would allow customers to check their beverage for caffeine.
Schiavone hopes to drive the Sharks into a feeding frenzy with his cutthroat approach. He proposes to pitch one sweetener packet company against another by making his product a proprietary part of their packaging, helping one or more sweetener companies corner the market on sales to the caffeine-wary customer. Will his ambitious plan backfire, or will the Sharks buy into his brilliant business strategy?
Caffeindicator Shark Tank Recap
Schiavone comes to the Sharks looking for a $200,000 investment in return for a 25% stake in the company. He explains that people often don't want caffeine due to medical challenges. Even customers who don't use sweeteners will use the packets to test their coffee, because it's "dynamic, interesting, and fun to share."
Schiavone proposes to take a 5oo million dollar market share, and take it to 1 billion. He tells the Sharks, "what we're leveraging is market share on a global industry." The Sharks want to know if he's previously approached the sweetener companies with his idea. He has not, telling them that he's giving them the opportunity to "open the door" to negotiations.
Next, they want to know the cost of manufacture. Shiavone explains that the cost of manufacture drops dramatically when the packets are mass-produced. Robert Herjavec wants to know, specifically, if the testing strip will add "fractions of pennies" to the cost of manufacturing the packets. Shiavone assures him that's the case.
Who's the Shark?
Kevin O'Leary points out that selling the product depends upon the "big five" in the sweetener industry buying into the idea that the product will significantly increase their sales. Shiavone agrees, but adds that there's also the possibility that one of the companies, in an effort to prevent competitors from getting the technology, will buy it to "bury it."
"You know, there's something nasty about you, that I like," responds O'Leary, clearly impressed. "What you're trying to do is create a bidding war in a very, very structured market."
Barbara Corcoran doubts that consumers are "that paranoid" about caffeine in their beverage. She also believes that the sweetener companies, if they bought into the idea, would have to lay out substantial marketing funds. She's out. Daymond John agrees, and follows Corcoran's lead. He's out.
Robert Herjavec is interested. He makes an offer: He'll give Schiavone the $200,000, but he wants 60%, and contingent upon getting a deal with a sweetener company. Kevin Harrington quickly speaks up, offering $200,000 for 50%, with the same contingency. Kevin O'Leary jumps into the fray, but hesitates too long. Harrington pushes for a decision, and Shiavone accepts his offer. He leaves the Shark Tank with a deal for $200,000 in return for 50% of his company.
Caffeindicator Shark Tank Update
The deal with Kevin never closed and Caffeindicator never seemed to take flight. There was a short period of buzz about the idea in various special interest publications, but then the media, and Shiavone, went silent. It seems that the sweetener companies didn't find his invention so sweet, after all. Or perhaps a company bought it to "bury it." We may never know.