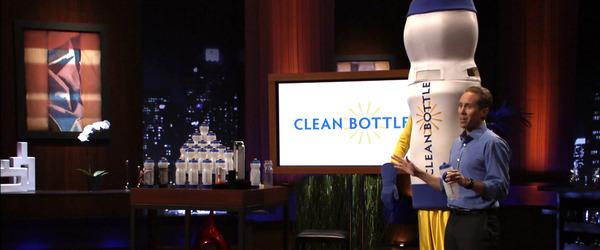 In episode 310, Dave Mayer brings his already-successful Clean Bottle to the Shark Tank. The innovative water bottle features removable ends, making it far easier to clean than traditional water bottles. Before his entry to the Tank, Mayer took his Clean Bottle to the Tour de France, where he promoted it with a bottle-mascot. Sales soon took off, and he has enjoyed $750,000 in sales.
Clean Bottle Shark Tank Recap
Mayer enters the Shark Tank looking for $60,000 in return for 5% equity in his company. Accompanied by his bottle mascot, Mayer explains that conventional bottles are difficult to clean, and demonstrates his Clean Bottle product, showing how the nozzle is removable as well, making the entire product washable.
He passes out samples, sure to give Robert Herjavec the runner's bottle, which features a case equipped with a handle. It's clear that Mayer's done his homework, and is aware that Herjavec participated in the NY marathon. Mayer talks about his $750,000 in sales, which works out to about 150,000 bottles. The Sharks are intrigued.
Daymond John remarks on the height of the water bottle mascot, and Mayer has him remove the top of the costume to reveal his spokesperson: two-time NBA Champion, Bill Walton. The Sharks are impressed, but Herjavec wants to know why, if Mayer made $118,000 last year, he's willing to part with equity in his company to get a Shark investment.
Mayer explains that he's about to launch a line of steel bottles, which will cost about $60,000. He needs the money to launch his new line, while keeping some profit to live on. He's willing to negotiate
Daymond John tells Mayer, "I think you're smart, you're slick, you're greedy, and it's offensive. And, I can't wait to be your friend and partner."
Who's In?
John is willing to offer $60,000, but he wants 25% of the company. Mayer's not willing to give up that large a chunk for the company.
Kevin O'Leary offers $100,000 for $.50 of every bottle sold in perpetuity. Mayer isn't willing to lose so much cash when he's in a growth stage.
Barbara Corcoran finds the 5% number "offensive." Mayer counters "Would you have taken 5% of Facebook?"
The Sharks are trying to knock him off course, but Mayer is determined not to give up too much equity for the investment he needs. Robert Herjavec jumps in, offering $60,000 for 10%. Only Mark Cuban remains. He offers $60,000 for 8%. The Sharks are in a bidding war. Herjavec changes his offer, to $60,000 to 5%.
In light of the offers on the table, Daymond John retracts his offer. Barbara Corcoran is out. Three offers are on the table. O'Leary offers $100,000 for $.50 on each sale. Herjavec offers $60,000 for 5%. Cuban is offering $60,000 for 8%.
Mayer tries to negotiate with Cuban, and Herjavec is offended by being "ignored." He retracts his offer. He wants Cuban to reduce his ask to 6%. Mayer asks for a break to call his father, who is a partner in the  business. His father advises him to hold firm. In the end, Cuban out-waits Mayer. Mayer risked everything by negotiating, but in the end, he walked out with his Shark deal.
Clean Bottle Shark Tank Update
Clean Bottle has experienced explosive growth since appearing on Shark Tank. Today, the bottles come in the original plastic, as well as stainless, and in different shapes. Accessories add to the line, giving the product a hold in a wide breadth of the market. Of the deal, Mayer says "At the end of the day, I got a great deal." And, so did Mark Cuban.
In December, 2018, the company was acquired for an undisclosed amount by Split Peak LLC, a private investment firm based in Boca Raton, FL. The company added steel tumblers and coffee mugs to the line. As of November, 2021, annual revenue is $4 million.
Posts about Clean Bottle on Shark Tank Blog
Clean Bottle Preview with Dave Mayer
Clean Bottle Company Information