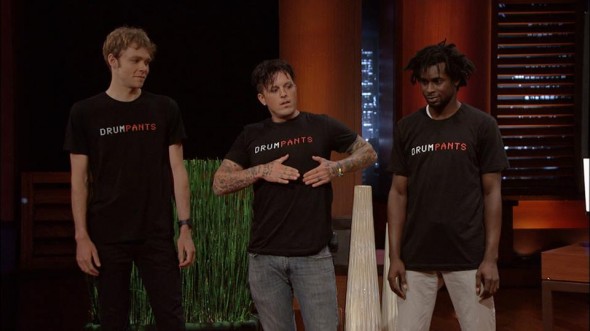 Lei Yu and Tyler Freeman, co-founders of DrumPants, hope the Sharks get the rhythm of their business and invest in episode 603. DrumPants is another successful Kickstarter business in the Tank – they raised $74,236 (twice what they were asking for) in January, 2014.
DrumPants is a set of two "foot pedal" sensors for inside your shoes and two "drum pads" that fit in your pockets; they're Bluetooth 'wired" to a control box that stores 100 plus sounds (drums, synthesizers, pianos, and guitars) with a small speaker, HDMI connection, and headphone jacks. By banging on the drum pads and tapping the foot pedals, you make beats and rhythms. Users can upload their own sound effects to the control box through the included app. The product works with a host of other musical apps as well. You can even program DrumPants to control games, smart phones, PowerPoint presentations, and even Google Glass.
The idea for DrumPants started as a prank when Tyler wanted to freak out his friends by banging out  beats while slapping his legs. The first prototypes were bulky and Freeman, Yu and the DrumPants team took six years to perfect the technology. There are two models: a basic version $99 and the Bluetooth-enabled Pro version for $139.
Both Yu and Freeman worked at Google and a bunch of other tech companies. They have a long way to go with manufacturing and getting DrumPants into consumers' hands. They probably need a Shark for a cash infusion and assistance with manufacturing.
DrumPants Shark Tank Recap
Lei and Tyler enter and ask for $150K for 5% of the company. Then three guys play the Shark Tank theme on their DrumPants. They explain how it works and ask the Sharks to march to the beat of a different drum – pants!
They show the product and reveal they are pre-revenue. The Sharks ask about pricing and Mr. Wonderful thinks the technology isn't proprietary enough. Robert thinks the $3 million valuation is out of line. They are forecasting $220K in sales for 2014. Lori doesn't think the market is broad enough and she goes out.
Mr. Wonderful won't believe the valuation, he cares about the CASH, he goes out. Robert sees their vision, and he offers $150K for 20%. Daymond asks if they are interested in licensing and offers $250K for 20% if they are. Robert thinks it's a profitable proof of concept and reiterates his offer. Lei and Tyler want to step into the hall, but Mr. Wonderful cautions them.
After a commercial break, they step into the hall. Mr. Wonderful says NASTY things happen when people step into the hall. Tyler wants to go with Daymond, but Lei doesn't like the licensing idea. They come back in and Mr. Wonderful summarizes the offers. Tyler counters Robert with $150K for 15%. When Daymond thinks they're waffling, he goes out. They ask Mark what he thinks and he says they're too deliberate, so he's out.
Robert gets miffed that they asked Mark about coming in and Robert goes out. NO DEAL.
DrumPants Shark Tank Update
The Shark Tank Blog constantly provides updates and follow-ups about entrepreneurs who have appeared on the Shark Tank TV show. This business shut down in December, 2016.
Posts About DrumPants on Shark Tank Blog
Drum Pants – The Band You Wear
DrumPants Information
Video