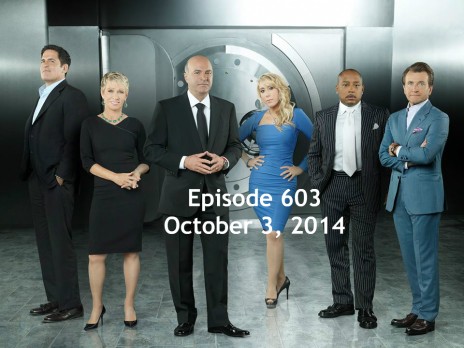 Three new businesses test the waters in the Shark Tank in episode 603, originally airing on October 3, 2014. Etsy entrepreneur Anastasia Heart introduces her line of upscale, small dog slings for transporting puppies. HeartPup Dog slings are made from luxurious fabrics so dog owners can be fashionable and functional at the same time. Dustin Berk and Ken Haton pitch Ninja Cards, their darts-like card throwing game.  Successful Kickstarters Ray Phillips and Alvin Uy think they have a solution for kiddy bath toys when they pitch SoapSox, a line of plush toys that double as washcloths. Lei Yu and Tyler Freeman, co-founders of DrumPants, want to get on a roll (a drum roll) with a Shark and get an investment for their wearable percussion technology.
Which business partners with a Shark?
Mark and Barbara teamed up to invest $500K in designer Fleetwood Hicks' custom bike business, Villy Custom, in episode 313 in season 3. The night the episode aired, Villy Custom's website crashed after getting a Shark Tank record 2.2 MILLION hits. This is the second update for Villy Custom – there was an update in episode 404 in season 4 too – so Fleetwood must be selling a lot of bikes! THAT's Shark Tank success!
There are 28 Shark Tank Episodes for Season 6. This season features the six "regular" Sharks and a host of other surprises. Casting is currently closed, but it never hurts to get a head start on season seven! If you would like to appear on the show, check out our Auditions and Casting information.
Episode 603 – The Shark Investors and Entrepreneurs
The Shark Tank Episode 603 entrepreneurs will make their best pitch to the panel of five Shark investors who will use their own money if they choose to invest. The Shark Investors negotiate on the spot without any previous information, which differs from typical negotiations between venture capital investors and entrepreneurial start-ups.
Companies pitching the Shark Investors must go through a rigorous due diligence process before an on-air deal is completed. Shark Tank Blog follow ups help you keep track of the companies that end up successful and the ones that don't complete their deal.
Thank you for reading SharkTankBlog, the number one site for Entrepreneurs, Investors and Fans. Our content updates multiple times day, giving you the latest information on Episode 603, Season 6, and all other seasons and episodes.