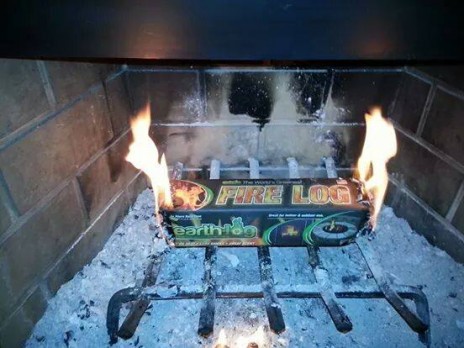 Tom Sanetti pitches his "green fire log," called Earthlog, in Shark Tank episode 612. Sanetti had a vision to create a pre-fabricated fire log that's the best on the market. Using only recycled paper and scrap candle wax, he's made a log that burns longer and hotter, smells better, and is better for the environment than other pre-made fire logs available today. He's also building Earthlog into a company with a purpose by getting involved with local, non-profit groups that provide job training and he's involved with fundraising via paper drives.
Sanetti started the company at his kitchen table while figuring out how to convert junk mail into a usable product. The first phase was creating a fire starter from recycled material, that morphed into Earthlog. The business is no longer a kitchen table operation, they have 2 warehouses and a 10,000 square foot manufacturing facility.
There are new products in the works, including a citronella log (to keep the bugs away). While Earthlog is a large and growing business, Sanetti is likely looking to the Sharks for help with rapid growth, both with a cash infusion and logistical assistance. Will Sanetti light a fire under the Sharks and get them to invest in Earthlog?
EarthLog Shark Tank Recap
Tom enters seeking $160K for 20% of his "fast growing business." Mr. Wonderful says he buys 10 boxes of fireplace logs a year; he wants to know how he can differentiate from the other logs. Earth Log is less expensive!
They've sold $200K in 4 years, with $50K last year. Tom explains he's gone from the kitchen table to big manufacturing in 4 years. Mr. Wonderful says it's a commodity and wonders why he hasn't sold to the big box stores. He says he has a four store deal with Costco, but he can't fulfill the orders. He has a letter of intent from Albertsons to go into 3200 nationwide stores. Tom's problem is manufacturing. He needs the investment to automate manufacturing and fulfill orders.
Mark loves the product, but it's too much work – he's out. Nick agrees with Mark; he thinks he's trying to go from zero to a thousand miles an hour – he's out. Mr. Wonderful tells the story of how he gave up 50% of his business to sell it for $4 billion, but he goes out. Lori says she thinks Earth Log reminds her of ScreenMend, she likes everything about it.
Lori offers $160K for 35% and says she can get Earth Log into a lot of retailers. Tom just says "deal!"
RESULT: Deal with Lori for $160K for 30%
EarthLog Shark Tank Update
The Shark Tank Blog constantly provides updates and follow-ups about entrepreneurs who have appeared on the Shark Tank TV show. The deal with Lori fell through and the company went out of business in 2018.
Posts About EarthLog on Shark Tank Blog
EarthLog Information
Video