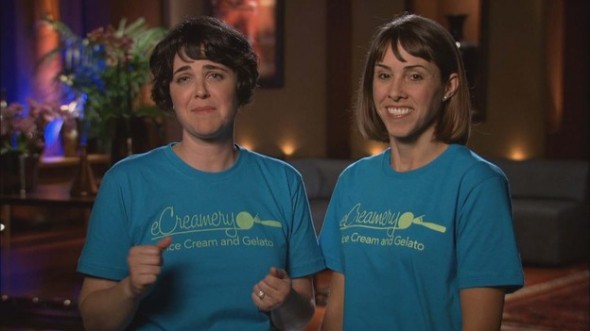 eCreamery entrepreneurs Becky App and Abby Jordan own an ice cream shop in Omaha, Nebraska. They also ship custom flavored ice cream, complete with custom names, anywhere in the USA as a gift item. People can give their ice cream loving friends personalized ice cream gifts that eCreamery will make, pack, personally label, and ship right to their door. The eCreamery website claims their ice cream is "an end to vanilla gifts." Their brick and mortar ice cream parlor only accounts for 40% of their sales, the rest comes from online sales of their personal ice cream gifts. App and Jordan brought personalized samples for the Sharks with four Shark Tank themed flavors: Shark Bait, The Cubanero, Delicious Dividends, and InvestMINT Mix.  App and Jordan hope the Sharks dig in to their custom ice cream.
eCreamery Shark Tank Recap
Becky and Abby came to the Shark Tank looking for $250k for a 33% share in the business. Like any good food entrepreneurs, the e Creamery ladies brought samples which the Sharks thoroughly enjoyed. eCreamery opened in 2007 and has a little more than $2 million in sales since. They are on track to do $750K in 2012 which will yield a profit of around $60K. They want an investment from the Sharks to build additional production and freezer space to keep up with the growing demand for their products.
Robert likes the concept, but he doesn't like the fact that there is another investor who bought into eCreamery for $600K and owns 70% of the business. Kevin likes the idea and offers $125K for 25% of the business, but he wants another Shark to come in on the deal. Daymond is out; Robert and Barbara are too. Mark likes the idea, but thinks other ice cream parlors will imitate the concept and deliver locally for less money, he's out too. Without another Shark, Kevin won't invest, so he goes out too.
eCreamery Shark Tank Update
App and Jordan rented additional freezer space in anticipation of the boost in web traffic a Shark Tank appearance brings. They also upped their inventory from the normal 800 pints to over 6,000 pints. By all accounts, eCreamery did very well after appearing on Shark Tank. App and Jordan were "flat out" for two solid weeks after appearing on the show. The 2012 holiday season was good to e Creamery as well.
e Creamery has done such a bang up job with sales since appearing on Shark Tank, they are featured in an update segment in episode 421! In the update, they talk about how sales exploded after appearing on the show. In 2014, Warren Buffett and Paul McCartney stopped in the shop for some ice cream. The women added an ice cream truck to cater parties and events. The business continued to grow, both at the store and through e-commerce. In October, 2019, the company merged with Omaha based Carson's Cookie Fix to provide a broader range of dessert options. As of January, 2022, they are still selling on Amazon. Annual revenue is $2 million.
Posts about eCreamery on Shark Tank Blog
eCreamery Information
Buy eCreamery