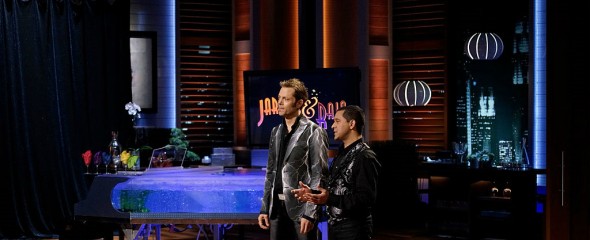 Jarret Parker and Raja Rahman, also known as "The Magic and Piano Guys," pitch their production company – Jarret and Raja Productions, to the Sharks in Shark Tank episode 723. The two Julliard School trained performers began their stage career in New York with an act that features magic, music, and comedy. They went on to perform in many Las Vegas venues and toured the world, culminating in a two-year run (2010-2012) in Asia as headliners,  in Singapore's $35M Cirque de Soleil production, "Voyage de la Vie." They also had a good run in "America's Got Talent," season seven and they were chosen to perform in the live AGT show at the Palazzo Hotel in Las Vegas.
The pair does many corporate events for big companies. In 2015, they did a lot of TV, appearing in 3 episodes of the CW's "Masters of Illusion", SyFy's "Wizard Wars", and "The CBS Late Show with Stephen Colbert." They are currently planning a blockbuster, Las Vegas production called "Miracles: The Show," which is listed as "coming soon" on their website.
The two performers probably want a Shark to bring a little magic (and cash) to their production efforts. Will a Shark think this is a magical investment?
Jarret and Raja Productions Shark Tank Recap
Jarrett and Raja come to the Sharks seeking an investment of $750,000 in return for 40% of the company. The pair want the investment to develop a new spectacle, titled "Miracles" to the Vegas strip.
They put on an illusion which appears to incinerate a young woman, then she reappears inside of a water-filled clear acrylic piano.
Robert Herjavec comments that if they run the illusion again with Barbara Corcoran as the star, he'll give them the $750,000.
Raja explains that, in order to put the production on, they need to come to the venue fully funded. They're in negotiations with a property to put on their production. They have a venue that seats 1,600, and they could sell tickets at $19.95, with one show a day.
Robert Herjavec believes that the demographic coming to Vegas is getting younger, and that the casinos aren't investing in magic shows, because they're not drawing in the crowds. He asks the pair how many acts that get their start in Vegas actually go on to reach the level of Siegfried and Roy.
Mark Cuban mentions that, having produced movies, he understands the challenges and risks involved in launching a new show. He believes the risks are too great, and he's out.
Barbara Corcoran agrees, calling the business a "crap shoot." She's out.
Robert Herjavec says he'd be "more comfortable if you had a following or a brand." He thinks the investment is too risky. "It's virtually impossible," he says, "To make money the way you're trying to do it," referring to the intense competition for magic shows in Vegas. The pair haven't convinced him that their show is unique enough to grab the attention of Vegas crowds. He's out.
Kevin O'Leary agrees. "Guys, I consider risk/return. Too risky. I'm out."
Lori Greiner has some advice for the pair. She tells them to leave behind the idea of launching their show in Vegas, and instead focus on another major city like Chicago. She likes what they're doing, but feels they're pursuing the wrong market. She's out.
The pair, like other performance artists before them, leave the Shark Tank with no deal.
Jarret and Raja Productions Shark Tank Update
In spite of their failure to get a deal with a Shark, Jarrett & Raja Productions did land a deal with a production company. Their show, newly titled "One Epic Night," has appeared in several major venues, including Las Vegas. The pair also made it onto America's Got Talent, cementing the upward trajectory of their joint career.
Raja admitted in a post – airing interview that the pair never expected to land a Shark deal. "We went on primarily for the exposure," he recounted. The pair got what they came for – they were spotted by producers who went on to sponsor them in more and more ambitious projects. Their dream of being the "next Siegfried and Roy" may not be an illusion, after all.
They continued to work in Vegas with stints at the Stratosphere and Caesar's Palace. Like a lot of people, when the Covid-19 pandemic shut down Las Vegas, the guys were out of gigs. As of 2021, they're gig-less, but as things open up, I'm sure they'll be onstage again soon. As of October, 2022, they perform their Magic vs. Music show Wednesday through Sunday at 4 PM at the Stratosphere Hotel and Casino.
Posts About Jarret and Raja Productions on Shark Tank Blog
Jarret and Raja Productions Company Information
Video