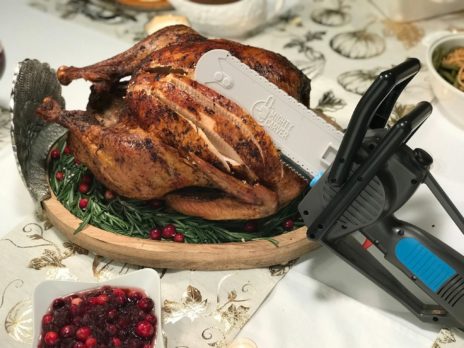 Kim and Lance Burney hope to cut a deal with a Shark for Mighty Carver, their electric carving knife that looks like a chainsaw, in episode 1205. Kim's family has a cabin in Montana and one of the annual chores was taking small, low lying limbs off trees to help prevent forest fires. The men in the family enjoyed using the chainsaws to do this and didn't view it as a chore. After her grandfather, who always carved the Thanksgiving turkey, passed away, nobody wanted to cut the turkey. She said to her family: "If this were a chain saw, you boys would be fighting over who gets to carve the turkey." That's when she got the idea for Mighty Carver.
That was in 2018. The Florida couple decided to go for it and the designed and manufactured an electric carving knife that looks like a small chainsaw. They took it around to various houseware shows where a Shark Tank scout found them. Apparently, the idea captured people's attention: they sold 5000 units in 2019.
Kim is the driving force behind this business. In less than a year, she invented, manufactured and patented the product. She also sold them wholesale to Sharper Image, Ace Hardware, The Grommet and Hammacher Schlemmer. They also sell on Amazon. At only $89, the Mighty Carver is a way to bring a little fun into carving the Thanksgiving turkey, or anything else for that matter. They likely want a Shark's help with cutting manufacturing costs and with distribution. Can the Burney's carve out a deal with a Shark?
Company Information
Video

Posts about Mighty Carver on Shark Tank Blog
The Mighty Carver – Chainsaw Carving Knife
Mighty Carver Shark Tank Recap
Kim and Lance enter seeking $100,000 for 20% of their business. The Sharks all like the concept and see it as a fun way to liven up holiday meals. Kim reveals that she holds a patent for the product, which impresses the Sharks. They have strong retail sales, but that's a problem. During the Covid-19 pandemic, retail is a less than desirable strategy. They want a Shark's help driving more direct to consumer sales.
All the Sharks like the product. Mark and Barbara tinker with teaming up on a deal. Kevin offers $100,000 for 33.3% and claims he'll boost online conversions. Daymond offers $100,000 for 27.5%. He then goes to 25% and starts a version of Mark's old "countdown clock." Lori urges them to accept Daymond's offer and they do!
Mighty Carver Shark Tank Update
The Shark Tank Blog constantly provides updates and follow-ups about entrepreneurs who have appeared on the Shark Tank TV show. The first re-run comes only a month and a half after the original air date. The Burneys credit Daymond and his team for helping them prepare for "The Shark Tank Effect." Daymond's team also works closely with the Burney's marketing team and helps them with vendor contacts. I appears this deal resulted in a strong working relationship between the Burneys and Daymond. As of July, 2022, they sold over $9 million worth of product.