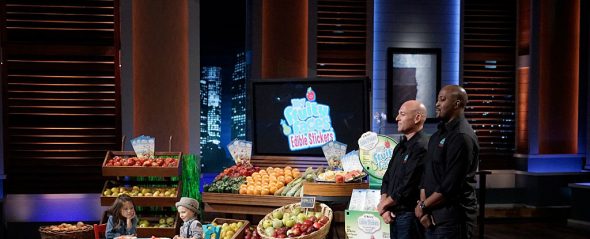 Adam Gerber and Bob Ntoya hope the Sharks stick with them and invest in My Fruity Faces, their line of calorie and gluten-free, edible stickers that encourage healthy eating, in Shark Tank episode 724. Adam and Bob are two dads who started this business to help their kids make healthier choices at snack time. Most kids like stickers and cartoon characters, that's why big food companies use them to sell cereal and junk food snacks. My Fruity Faces takes the things kids like – stickers and cartoons – and puts them on healthy snacks.
Now, a parent can give a child a piece of fruit with a sticker on it. The kid eats the sticker AND the fruit; it's a win/win. It adds an element of play to snack and meal time: the more kids play with My Fruity Faces, the more fruit and veggies they consume. The stickers work great for picky eaters and they make great gifts and tools for teachers too.
My Fruity Faces has their own cast of characters: Buddy Bites, Groovy Gals, Monster Munchies, and Playful Pets. They recently licensed the product to Nickelodeon and have both Sponge Bob and Dora the Explorer stickers for sale. They claim they're expanding to include more licensees from television shows, movies, and sports teams in the works. The product is currently available in Wal-Mart stores in southern California (with more stores in the pipeline), the company website, and on Amazon. They likely want a Shark to help them expand their retail reach. Will a Shark stick with My Fruity Faces?
My Fruity Faces Shark Tank Recap
Adam and Bob come into the Tank seeking $200,000 in exchange for 10% of the company. The pitch gets off to a rocky start as Bob forgets his lines, but the pair are able to present their stickers and their idea to the Sharks.
The stickers are in stores already, and they've had $125,000 in sales in 3 years' time. Kevin O'Leary wants to know about their recent sales. In the past month, they've sold $2,000. The Sharks are not impressed.
Bob explains that they've recently gotten a contract as a vendor with Walmart, and that they can go into 3,600 stores. The Sharks groan at the news. The pair don't have actual purchase orders; they just have the ability to go into Walmart. Their initial sales test showed a 70% sell-through.
Adam explains that they're in talks with Target and other major retail stores. They've had a Nickelodeon license, and they feel the licensing deals may provide greater retail sales opportunities. Total sales have been $486,000, but the company is currently in debt for $176,000. The pair are not off to a good start with their numbers.
Barbara Corcoran goes out based on the numbers alone.
Daymond John tells the pair they've made a cardinal mistake by thinking that money could get them to a successful level. He says they should've gone to schools, more stores, and tried to sell more. He's out.
Mark Cuban agrees. He believes they need to move the inventory they have, not try to build contracts.
Kevin O'Leary tells them they "shouldn't invest any more in this company." He's out.
Chris Sacca believes "too many things need to go right, and they're going wrong." He's out.
Mark Cuban believes that "something's wrong." He doesn't believe it's the idea, but rather the execution. He doesn't "want to be the one to fix it." He's out, and the pair leave the Tank with no Shark deal.
My Fruity Faces Shark Tank Update
While My Fruity Faces didn't get a deal from the Sharks, the plucky little company continues to hang on. The appeal may not have been able to win the Sharks over, with poor sales dragging the company's prospects down to the compost heap, but they have been successful in placing the snack enhancers in 3 California stores, as well as having them available on the website and on Amazon. Whether the pair, both chronic entrepreneurs with multiple start-up companies under their belts, will take the Sharks' advice and concentrate on building their sales, remains to be seen. Meanwhile, kids everywhere can enjoy devouring their personalized fruits and veggies, thanks to My Fruity Faces.
The company went out of business in 2018. As of November, 2022, Ntoya is the founder of two new businesses:  medibles, a subscription CBD edible business and BioMed, "an AI/ML platform that utilizes science and cutting edge technology to deliver highly personalized and precision medicine to save and improve the lives of our patients." Gerber is involved in a variety of real estate businesses in the Pasadena area.
Posts About My Fruity Faces on Shark Tank Blog
My Fruity Faces Company Information
Video