PartiePoche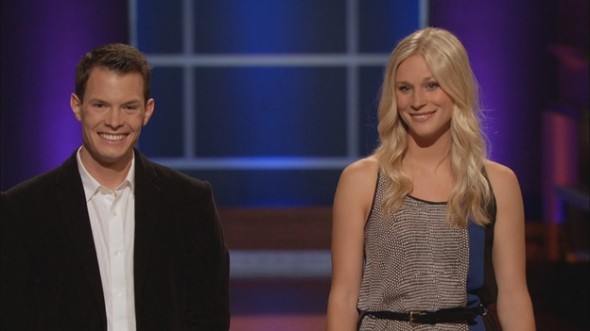 PartiePoche entrepreneurs Connor Pastoor & Jillian Jaccard pitched the Sharks on their cell phone holder that fits on your leg in episode 409. They claimed the PartiePoche has a patent pending. PartiePoch (pronounced Party Posh) is designed to be a stylish replacement for a purse or handbag for ladies who want to wear a dress but still tote "the essentials" around: cell phone, credit cards, cash. The company is pre-revenue, so Connor claims they can't accurately value it.
PartiePoche Pitch
Connor and Jillian are asking $100k for a 20% share of PartiePoche. Another investor already owns 40% of the company, which was purchased for $50K. In what may be remembered as one of the biggest Train Wrecks in season four, the Sharks grill the young MBA's. Kevin thinks their valuation is so far out of line, he forbids the other Sharks from making any offers! Robert doesn't like the fact that there are no sales, so he's out too. Barbara likes their enthusiasm, but thinks it will be the thing that sinks them; she goes out. Daymond follows. Mark likes the PartiePoche MBA's and the product, but he doesn't like that they have no clear direction; he's out.
PartiePoche After Shark Tank
The Shark Tank Blog constantly provides updates and follow-ups about entrepreneurs who have appeared on the Shark Tank TV show. Once an episode has aired, we monitor the progress of the businesses featured, whether they receive funding or not and report on their progress.
The PartiePoche website was not functional during the first airing of the show, but they claim it will be up and running by the time the episode re-runs on 12/14/12. Shark Tank Blog got the story behind what happened with PartiePoche after the Shark Tank.  It seems they sold the business to a company called Audacis shortly before their show aired. Audacis went out of business less than a year later and never brought the product to market.
As of August, 2021, Jillian is CEO of Pier Asset Management. Connor is a wealth Advisor at JAG Capital Management.
Posts about Partie Poche on SharkTankBlog