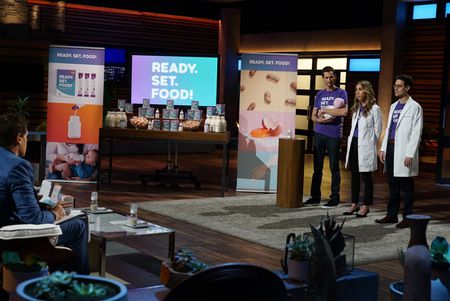 Katie Marks-Cogan, Daniel Zakowski and Andrew Leitner introduce the Sharks to Ready Set Food, their baby food business that helps parents prevent their kids from contracting food allergies, in Shark Tank episode 1115. Marks-Cogan and Leitner – both medical doctors – founded the company in 2018. Zakowski is the CEO.
The idea began when Cogan (an allergist) was introducing her child to allergenic foods at a young age. It was a hassle measuring things and her son sometimes wouldn't eat everything. Leitner did not introduce his son to allergenic foods at a young age and he developed food allergies. They thought that by making a supplement to put in a baby bottle they could make introducing the most allergenic foods easy and safe.
People aren't born with food allergies, they develop them. Ready Set Food uses a powdered add-in for baby formula that gently introduces peanut, egg, and milk to your baby. They recommend starting at four months. The packets contain organic, non-GMO, and all natural milk, eggs and peanuts with added sugar, additives, or preservatives. There is a stage 1 packet for a two week introduction period and the stage 2 packet they suggest using for at least six months or until baby can eat their own eggs, milk and peanuts.
A six month supply costs $29 per month when you commit to six monthly payments. Buying a one month supply "a la carte" costs $47. Ready Set Go is available on Amazon, too. The company has a lot of doctors on its board and a boatload of studies to back up their claims. So far, they've raised $2.2 million in venture capital and has roughly $3.7M in estimated revenue annually. They likely want a Shark to help them expand distribution. Will a Shark be ready and set to invest?
Company Information
Video

Posts about Ready Set Food on Shark Tank Blog
Food Allergy Prevention for Babies
Ready Set Food Shark Tank Recap
Katie, Daniel and Andrew enter the Tank seeking $350,000 for 7% of their business. After explaining the business and the science behind it, they tell the Sharks they've already raised $2.4 million at the same valuation they're offering the Sharks. They also expect 2019 sales to be around $450,000.
The Sharks like that there's no competition in the market place. They also like the 70% margins. After fielding offers from Mark, Kevin and Lori, they decide to do a deal with Mark. Mark offers $350,000 for 10% plus 2% advisory shares. He also wants to set up a mechanism to provide the product to low income families free of charge.
Ready Set Food Shark Tank Update
The Shark Tank Blog constantly provides updates and follow-ups about entrepreneurs who have appeared on the Shark Tank TV show. This deal closed and the company is doing well with their partnership with Mark. They continue to expand their network of physicians who provide the products for their patients. They also continue to sell on Amazon. In a press release announcing the final deal with Mark, Daniel Zakowski called Cuban's investment "a validating moment for our company."
In June, 2021, Cuban led another round of investors to raise $3 million. Cuban said, "as a parent of a child with a severe peanut allergy, I know firsthand the impact it has on families across the country. Together, with Ready, Set, Food! we will work on making sure every parent knows about early allergen introduction and has the ability to protect their children from food allergies." They also introduced organic oatmeal and Stage 3 to the line. Stage three introduces peanut, egg, milk, cashew, almond, walnut, sesame, soy and wheat to kids who have transitioned to solid foods. As of November, 2022, the company has over 25,000 regular users of their products and they're doing $3.5 million in annual revenue.
The company gets an update segment in episode 1409. In the update, they say they've added a third tier product for infants over 6 months old to expose them to 7 of the most allergic foods. They also added organic baby oatmeal in 6 flavors. They continue to do reasearch into ways to introduce allergens in the most effective way possible. The products are available in pediatrician's offices, Wal Mart, Target, Meijer and many more places.
As of June, 2023, annual revenue is estimated to be somewhere between $3 million and $5 million.