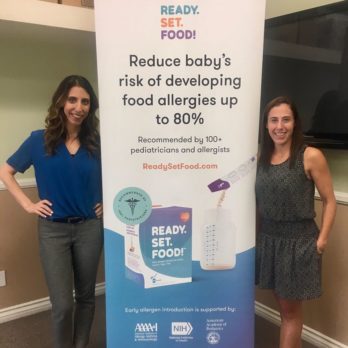 Doctors Katie Marks-Cogan and Andrew Leitner founded Ready, Set, Food after they had their own experiences with food allergy prevention with their own kids. Dr. Marks-Cogan was very attentive about introducing allergenic foods (milk, eggs, peanuts) to her child, but she didn't like the hassle of measuring and hoping the kid would eat everything. Dr. Leitner's child didn't get that early attention and he developed food allergies.
Food allergies can develop in children who don't get exposed to allergenic foods at a young age, even if there's no family history. The two doctors put their heads together and came up with Ready, Set, Food. The product is a supplement to baby formula or breast milk that gradually introduces eggs, peanuts and milk into a baby's digestive system. Starting a baby on the supplements at four months and continuing for 6 months drastically reduces the probability of developing food allergies.
Currently, about 1 in 13 baby's will develop a food allergy. It happens when their bodies aren't exposed to enough allergenic foods so it doesn't "learn" how to digest them. An allergic reaction is the result. The good news is these two doctors have plenty of studies to back up their claims. There are even more doctors on the company's board of directors. Their goal is to have every child weaned on their products so food allergies will be far less common. They'd like a Shark to help them spread the word.
My Take on Ready, Set, Food
As a father of five, I was lucky my kids never got a food allergy. One of my daughters thought she was lactose intolerant, but it turns out she was just a grumpy teenager! I think most parents would want this product to avoid the pitfalls and potential dangers of food allergies in their kids. At about $40 for a month's supply, it's a solid investment in your child's future health. As the saying goes: "an ounce of prevention is worth a pound of cure."
I developed a food allergy as an adult. It turns out I was allergic to a specific kind of wine: Nouveau Beaujolais. It took my doctor and I over two years to figure it out. I would break out in hives whenever I drank it, so it's Pinot Noir for me from now on! But seriously, I know people with kids who have food allergies. I even know a child who died from unknowingly eating peanuts. This product will save lives and make a lot of kids have a better life. I am in.
Are Sharks Ready to Bid?
I see a few problems with this pitch. First, I think they will come in with a crazy, un-Shark-like valuation. They've already raised several million dollars from venture capitalists. When that happens, things get a bit diluted in the Tank. I can even see Mark accusing them of just "wanting a commercial."
The other thing that might scare the Sharks is liability. While the founders are doctors and there are literally hundreds of doctors who endorse Ready Set Food, the Sharks may still be leery of a product that makes such serious health claims. I am sure the reams of studies they have on their product can overcome that objection, but I still think they leave with no deal.