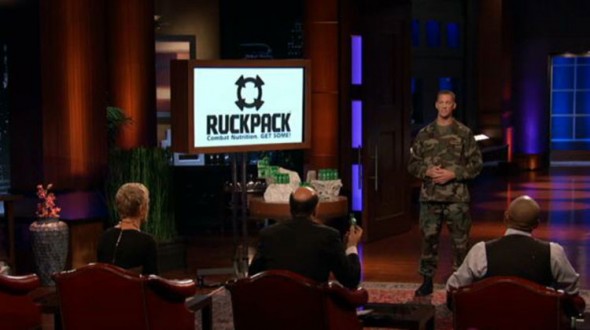 Major Robert Dyer comes to episode 411 with his product, Ruck Pack Energy Drinks. A Major in the Marine Corps, and a professor at the US. Naval Academy, Dyer came up with the idea for Ruck Pack while serving in Afghanistan. He and his fellow marines wanted an energy booster that would offer a quick pick-me-up, without the crash that often follows when using caffeinated, sugary drinks currently on the market. He created RuckPack as a nutritional energy drink, with essential vitamins and minerals, as an alternative to the energy shots currently on the market. Major Dyer has already made progress in getting his product into retail stores, but he's run out of inventory and needs a Shark investment to continue to grow and get his product in front of even more potential customers. Will the Sharks join Dyer for the long haul?
Ruck Pack Shark Tank Recap
Dyer comes onto the Shark Tank seeking $75,000 for 10% of his company. He gives a brisk, informational presentation and offers  the Sharks a sample of Ruck Pack. When Robert Herjavec has trouble opening his bottle, Dyer doesn't miss a beat, telling him he'll "need a couple of the shots to get the strength" to open it.
Dyer explains how his product is "like a daily vitamin," and that it's healthier than anything on the market. The Sharks quickly get down to business. Daymond John mentions the company's valuation, at $750,000, and wants to know what Dyer plans to do  with the money if he receives an investment. Dyer has his answer ready. He wants to scale the manufacturing of Ruck Pack, in order to reduce the cost of production, from 85 cents, down to 50 cents per bottle.
John wants to know what the sales have been. Dyer's answer, just over 15,000 bottles in a month's time, impresses the Sharks. Robert Herjavec wants to know about current inventory. Dyer is currently completely out of inventory, but he's got 80,000 bottles on the way. He's had to pre-pay for 50% of the order, making the need for a Shark investment even more pressing. With $90,000 of his own money tied up in the company, Dyer is facing a common small-business problem: A vacuum in the cash flow. The inventory is already paid for. The business is on solid ground, but needs partners to grow.
Daymond John has already invested in a similar product, so he's out. Barbara Corcoran finds Dyer's story "compelling," and says she's "in love" with him, but she's troubled by the size of the investment he's already made, compared to sales. She's out.
Kevin O'Leary makes an offer. He's willing to give Dyer $75,000 for 10%. Mark Cuban is concerned about Dyer having a full time job as a professor. He's out. Before Dyer can accept O'Leary's offer, however, Robert Herjavec speaks up. He believes he's going to need more money, so he offers to partner with O'Leary, upping the ante to $150,000, for 20% of the company. Dyer accepts and gets a Shark deal.
Ruck Pack Shark Tank Update
In the year after making a deal with O'Leary and Herjavec, Ruck Pack's sales skyrocketed. Sales revenue soared from $35,000, to almost $500,000, and the company sponsored a jet, which will show up at air shows all over the country. The product was able to get into Walgreens, a huge national market.
Of the deal, Dyer says; "We're going to be an actual contender in the energy drink category, which is unheard of for a new guy, all because of the help I've received from the Sharks."
With success comes growing pains. Ruck Pack's popularity, plus the strain of running a business created some real challenges for the business. You can read about them HERE on Beyond the Tank Episode 109.
In September, 2014, Dyer stepped down as CEO and passed the helm to Derek Herrera, a veteran Marine Special Operations Officer. Herrera didn't last long and  "did some serious damage to the company's bottom line." Next, Dyer brought in Jimmy Patrick O'Brien, Jr., a childhood friend. In April, 2016 they  partnered with The GHT Companies to manufacture all their drinks. As of August, 2021, they still have a live website, but everything is sold out. They are no longer on Amazon either. As of May, 2022, Dyer still lists himself as CEO of Ruck Pack, but the company doesn't have any products for sale on its website or Amazon. In June, 2022, they have products for sale on their website again.
Posts about Ruck Pack on Shark Tank Blog
Ruck Pack Company Information