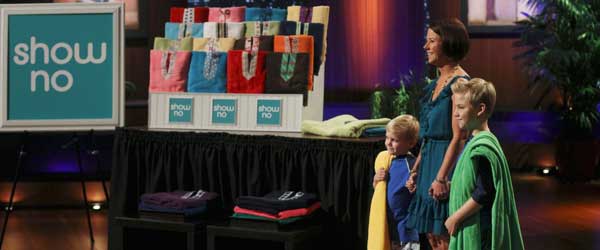 ShowNo, as Mr. Wonderful described it, is "a towel with a slit in it." Entrepreneur Shelly Ehler took that very simple concept and made a product and a business out of it. She famously traded custom drapes for the patent work and got the ShowNo patented, furthering the truth that sometimes the simplest things get overlooked. The concept of the ShowNo is it allows kids to change out of a bathing suit in public with a degree of modesty. It makes a nice beach towel/cover up too. Shelly wants to put the ShowNo into water parks and is looking for some help from the Sharks with distribution.
ShowNo Towels in the Shark Tank
Shelly came into the Tank asking for$50k for a 25% share of her business.   She brought her sons with her to model the ShowNo, then she gave each of the Sharks their own "special Shark Tank edition" towels. Even with only $15K in sales, Shelly was well liked by all the Sharks, they could sense her never say die attitude and confidence in herself.
Robert loved Shelly, but not the ShowNo; he's out. Kevin didn't like the product either, he's out. Daymond John offered $50K for a 50% share, Lori Greiner countered with a check, written on the spot, for $50K for a 25% share. Daymond countered with $50K for a 20% share. Mark then offered $75K for a 25% share. Lori and Daymond went to $75K at 25% and Lori played "the girl card." Shelly took Lori's offer and left the Shark Tank with a check.
ShowNo Towels Shark Tank Update
Lori Greiner took the ShowNo Towel to the Today Show and got it into the gift shop at Walt Disney World's Water Park, where they quickly sold out. To date, Disney hasn't re-ordered, but Shelly is working on getting another order with Disney via a licensing deal. Shelly continues to pound the pavement at trade shows to get better distribution. She attended the Water Park Operators Trade Show and the USSA Swimming Trade Shows, among others, in 2012 and is getting distribution deals at every stop.
The ShowNo is in dozens of waterparks nationwide and Shelly is selling to the swim club crowd. Lori Greiner's involvement with Shelly and her company appears to be minimal moving forward, but that isn't stopping Shelly. There is no mass manufacturing deal in place, all company products are still being hand-made in Shelly's home. Shelly continues to develop other ventures, including a 3D poster company called All Blown Up featured on the Today Show. ShowNo was featured in an update segment in episode 313 in season 3.
Shelly later revealed that the deal with Lori was strictly "made for television." She never got a check  from Lori and the Disney update segment was contrived. In 2016, Shelly ceased operations for personal reasons. In 2018, she resurrected the business and continues to sell products online.
On August 31, 2020, she closed up shop again.
ShowNo Towels on Shark Tank Blog
Shelly was the first entrepreneur I interviewed for this site and has been very helpful with introducing me to the Shark Tank Community of entrepreneurs.
All Blown Up by Shelly Ehler on Today Show
WWE Star Alberto Del Rio Battles a Shark
Little Miss Models New Fashion Item
 Swim Fashion Makes Big Splash Re-run
ShowNo Shelly Ehler Exclusive Interview
ShowNo Shelly Ehler Shark Tank Pitch
VIDEO:
Company Information
All Blown Up website