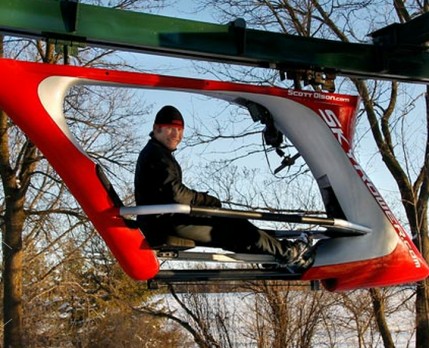 Skyride is the brainchild of successful inventor Scott Olsen. Most people are familiar with his most famous invention, Rollerblades! Olson  brought his latest innovation to the Shark Tank in episode 313. Skyride is an elevated, human-powered monorail. You either pedal or row to propel the Skyride "capsule" along an elevated track. Olson incorporates Rollerblade wheels in the track and the Skyride vehicle. This probably doesn't have the mass consumer appeal Rollerblades have, but it is an exceptionally cool idea! Olson has a prototype track set up in his own backyard, but he sees Skyride as a component in mass transportation in cities. His vision is using Skyride as an alternative to driving in congested areas.
Skyride in the Shark Tank
Scott entered seeking $3 Million for a 20% share in the business. He has no sales, but claims to have several projects in development. He wants to sell to ski areas, municipalites and facilities with large campuses to use Skyride as cheap transportation and, in the case of the ski resorts, as a thrill ride.
The Sharks think it's pretty cool (it is), but they have concerns. Barbara respects Scott, but doesn't see a viable business; she's out. Daymond likes it, but has no idea how to build a business with it; he's out too. Mark likes it too, but developing it will take a lot of construction knowledge; Mark's not a construction guy, so he's out. Robert doesn't see a consumer application for the business and Mr. Wonderful just doesn't like it; they're both out. Scott Skyrides out of the Shark Tank empty-handed.
Skyride after the Shark Tank
Since appearing on Shark Tank, the company has no discernible sales. They continue to market the product and have several projects "in the works," but nothing is built. There should be one or two operating systems in place by the end of 2013. In 2020, they deployed their third ride on Carnival Cruise Ships. Carnival says they are their ships' most popular attractions. As of July, 2021, annual revenue is $900,000.
Posts about Skyride on Shark Tank Blog
Company Information