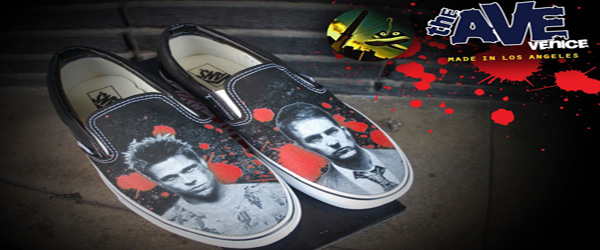 Nick Romero comes to the Shark Tank from Venice Beach, CA, to bring his company, The Ave Venice, in front of the Sharks in episode 306. When visiting Chicago on vacation, Romero discovered a custom tee-shirt printing shop that offered iconic local designs. Romero was inspired, and felt that Venice Beach deserved its own custom shop. He acquired a shirt-printing machine, and spent the next two years modifying it and designing software that would allow him to use the machine to print custom artwork on sneakers. Will the Sharks take a bite out of Romero's custom printing operation?
The Ave Venice Shark Tank Recap
Romero enters the Shark Tank looking for $125,000 in exchange for a 15% equity stake in his company. When he comes to the Sharks, his store is already established. Customers come in with their artwork, or choose from available designs, and articles of clothing are printed while they wait.
Romero presents his apparel to the Sharks, telling them that young people express themselves through their clothing. He actually has the printing machine on stage, and prints a pair of sneakers within seconds. Daymond John cuts to the heart of the business, asking "so, it's all about the machine?" Romero responds that his customized accessory, a patent-pending plate that holds the sneakers in place, is the key to his business.
Romero's 470 square foot store has generated $570,000 in sales since its opening, generating $150,000 in profit. The Sharks are impressed with the numbers, but Daymond John wants to know about Romero's business plan. He wants to expand his existing retail store, and franchise the Ave Venice, making each store a retail outlet during the day to cater to the walk-in customers, and a "fulfillment center" in the evenings, filling online orders during time it would normally be idle.
Who's In?
Daymond John calls Romero "cool," but says he's lost a lot of money "on the cool guys. They were still cool but I was broke." He's out.
The Sharks want Romero to change his business model, and license his adapted technology, but they recognize Romero's dedication to his present business model, and his passion for bringing customized art to the world. Robert Herjavec doesn't want to "change his business model." He's out.
Romero says he's "all about money," that he wants a partner to help him expand his business. In spite of Kevin O'Leary's admiration of Romero's philosophy, he says "I hate retail," and he's out. Barbara Corcoran tells Romero that he's "really in love with the retail business." She's out. Only Mark Cuban remains.
Cuban wants to know how much Romero wants to get paid while he builds the business. When Romero waffles on giving him a number, and says he's already living off the profit of the store, Cuban tells him he can't give him adversity, and "adversity makes all the difference." He doesn't think Romero is hungry enough. He's out, and Romero leaves the Shark Tank without a deal.
The Ave Venice Shark Tank Update
In spite of his failure in the Shark Tank, Romero continued to grow The Ave Venice. Today, he's a well known designer, providing customized garments to his customers in his Venice shop. His shirts and shoes have been worn by big-name celebrities, and many are regular customers. While Romero didn't entice the Sharks, he has hit upon a winning business strategy that will support his "LA lifestyle" for many years to come.
Nick finally got the patent for his machine in 2014. They moved out of their Venice location to a 5000 square foot facility in downtown LA and re branded to The AVE Los Angeles. With the patented technology, he was able to secure licensing agreements in the USA, Europe and Canada. This led to a partnership with NVR SHOES, the world's first casual Shoe Brand with a shoe designed specifically for DTG Printing. The online store lets customers create their own designed shoes or choose from many pre-printed, licensed images on shoes. As of November, 2022, the company has $3 million in annual revenue.
Posts about The Ave Venice on Shark Tank Blog
Venice Custom Everything Seeks Investment
The Ave Venice Company Information