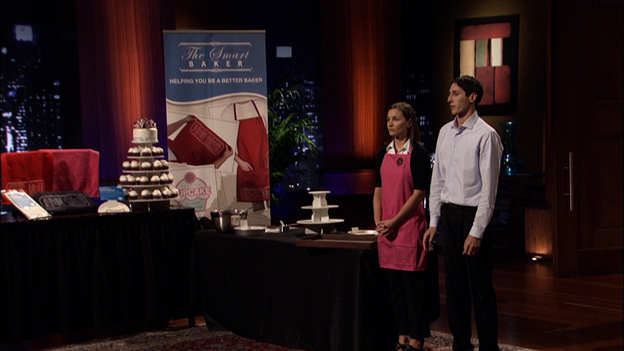 The Smart Baker came to be when Daniel Rensing put a measurement conversion chart on an apron for his wife, Stephanie, who loves baking. Apron sales led to them developing other products like specially sized parchment paper with handles to fit in baking vessels and a line of high quality, re-usable cupcake towers. They also sell an assortment of baking accessories on their website. Daniel was running the business until Stephanie lost her job as a teacher; now they're both full-time with the Smart Baker.
The Smart Baker Shark Tank Recap
Daniel and Stephanie came in asking for $75k for a 25% share in their business. In the three months prior to taping, they had $34K in sales and projects $100K for the year. Most of their sales come from their website and several specialty baking shops. They're looking for a Shark investment to help them grow and expand their distribution.
Mark thinks he'd hold them back and, even though he likes the business, he's out. Robert and Kevin don't see enough value; they are both out. Daymond offers $75K for 40% of the business. Barbara offers a "Daisy Cake Deal" and offers $75K for 40% with a 5% royalty until she's paid back. Daniel asks Barbara to go to $100K, but Barbara holds firm on her offer. Daniel and Stephanie agree to go with Barbara and they leave the Tank with a new partner for Smart Baker.
The business sustained consistent sales through the years. As of July, 2021, annual revenue is $1 million.
The Smart Baker Shark Tank Update
The best news for the Rensings came less than a week after taping their Shark Tank segment: Stephanie got a new teaching job! Daniel carried on with building the Smart Baker, but the deal with Barbara never came through. After meeting with Barbara's "people,"  Barbara had concerns about the cost of the cupcake towers and wanted to make a less expensive product. Unable to agree to terms, the Rensings and Barbara parted ways amicably.
Not completing the deal hasn't prevented Daniel from expanding the business. They got a nice spike in sales after the show and the publicity opened some doors. They are attempting to license the parchment paper to "the Reynolds Wraps of the world" and they have a completely re-vamped website. Just before the 2012 holiday shopping season, Daniel shipped SIX TONS of product to an Amazon distributor. Sales are brisk and spike around gift giving holidays like Christmas, Mother's Day etc. It appears The Smart Baker is another Shark Tank success story.
The business maintained consistent sales over the years. As of November, 2022, annual revenue is $1 million.
Posts about Smart Baker on SharkTank Blog
Information
BUY  Smart Baker Products