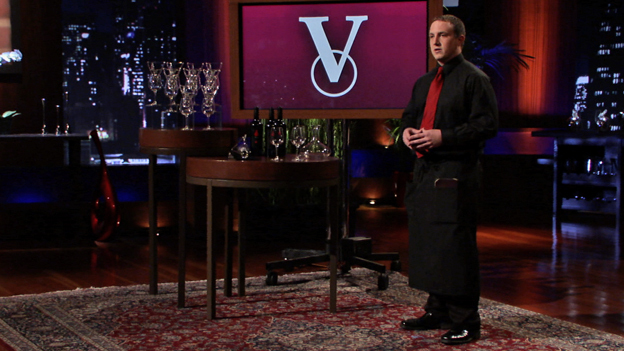 Vinamor entrepreneur Gary DeJohn brings his unique wine aerator into the Shark Tank in episode 309. Gary is a bit of a wine connoisseur and a professional waiter who sells quite a bit of wine at his local Fort Collins, Colorado Melting Pot – where he worked before he invented Vinamor. The Vinamor is different than other wine aerators since it can decant wine by the glass. Gary claims proper aeration can make a $10 bottle of wine taste like a $50 bottle!
Vinamor in the Shark Tank
Gary came into the Shark Tank looking for $75k for a 30% stake in his business. Mr. Wonderful is a wine connoisseur himself, in fact, he was in the midst of purchasing a vineyard when this episode taped. He owns every commercially available wine aerator on the market and wants to know why the Vinamor is different. Gary tells him the "by the glass" aeration is unique and his model exposes the poured wine to the maximum amount of air for decanting.
Robert's not a wine guy and doesn't feel he could help Gary grow the company; he's out. Daymond is out too. Mark says he's a "beer guy," so he's out. Barbara doesn't want to invest either. That leaves Mr. Wonderful. Kevin thinks Gary should license it to major wine makers and manufacturers. Gary doesn't want to do that, so Kevin's out too (but he finishes his wine). Gary leaves the Tank with no deal.
Vinamor Shark Tank Update
Gary DeJohn's Vinamor is a true Shark Tank success story! Even though he didn't get a deal, he's had great success. Just after taping, he secured a $50,000 loan to expand the business. He secured mass manufacturing too; before taping, each Vinamor was hand-made. Vinamor sells in over 100 liquor stores, vineyards all over the country, and web sales a brisk. The product got a real online sales boost when Wine Enthusiast Magazine did a feature. Gary has a test deal selling in his local Melting Pot and if they sell well, Vinamor will sell in every Melting Pot nationwide. Gary's had so much success, he was able to raise over $8,000 for St. Jude's Children's Hospitals in the fall of 2012. Vinamor is a fantastic example of how sometimes not getting a deal on Shark Tank can be the best thing to happen to a business!
Around 2015, it seems Gary lost his passion for Vinamor. That's when he started a property rental business. As of July, 2021, the company is still in business. You can order from the company website, they are no longer available on Amazon. As of November, 2022, there are no products available for sale on the website.
Posts about Vinamor on Shark Tank Blog
Company Information