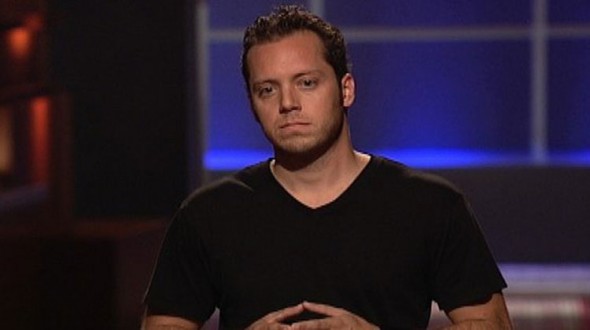 Shark Tank episode 108 featured Danon Beres, son of the famous belt-maker, Al Beres, and his Washed Up Hollywood line of belts and buckles. Beres hopes to follow in his father's footsteps with a new branch of the family company. Washed Up Hollywood would emulate the Beres' tradition of creating fashionable belts and buckles for the Hollywood elite, but seeks to bring the high fashion to a new generation of celebrities and every-day customers alike. The line seeks to be affordable, while retaining the unique signature look the company was famous for when the belts were worn by 5os and 60s "doo-wop" singers.
Can the heavy, meticulously detailed belt buckles be brought into the modern era, or will the Sharks unbuckle Beres' from his dreams?
Washed Up Hollywood Shark Tank Recap
Beres comes into the Shark Tank seeking $500,000 for a 25% stake in Washed Up Hollywood. He enters the Tank with a pair of female models sporting his designs. The ladies hand samples to the Sharks. Robert Herjavec and Daymond John are impressed with the fashionable accessories. The Sharks begin breaking down the numbers, asking about the price point, the annual sales, and competition.
Beres presents his numbers. The belts are priced between $50 and $100. A $100 belt costs around $40 wholesale. The profit margin is solid, but with $438,000, his clear profits were at $50,000. Beres is calm and confident as he presents his numbers, history, and structure. He claims the company has over $150,000 in cash value, and is growing. He's confident that the $2 million valuation implied by his $500,000 request for 25% of the company is fair. The Sharks don't agree.
De-Valuation
Kevin O'Leary, in true Mr. Wonderful fashion, praises Beres' "arrogance." He's impressed that Beres is both CEO and the head designer, but he calls him a "greedy pig" for asking for such a large investment, saying there's no room for an investment to pay out. Daymond John questions whether the sales numbers are as high as Beres is claiming. Robert Herjavec tells Beres that he's looking for "gambling," not an investment.
O'Leary says in order to justify a $500,000 investment, the company would need to be making $2 million in sales. Beres sites a deal on the table with a jeans company to create a private label design. O'Leary isn't impressed. Robert Herjavec tells Beres he's made a "big mistake with the valuation." He's out. Kevin Harrington agrees that the investment is far too high considering the risk. He declines to offer a deal. Barbara Corcoran is sad to say she's out. O'Leary says Beres has "wasted" his time. He's out. Daymond John tells Beres that he's "worked so hard to get here, and worked so hard to destroy your opportunity." The final Shark is out. Beres leaves the Shark Tank without a deal.
Washed Up Hollywood Shark Tank Update
After Beres appeared on Shark Tank, he revealed in an interview that he intended to ask for $750,000, and lowered the number to a "more realistic" request for the show. Clearly his confidence was higher than the Sharks' belief in his company.
In spite of his overconfidence going in to the Shark Tank, Beres didn't give up on his belt buckle dreams. Washed Up Hollywood moved forward, and remained a thriving niche company, selling through over 300 retail stores and direct online sales for some time. As of July, 2021, the only remnant of the belt and buckle business is on Al Beres' Ebay Store.
Posts about Washed Up Hollywood on Shark Tank Blog
Washed Up Hollywood Shark Tank Danon Beres
Washed Up Hollywood Company Information
Video