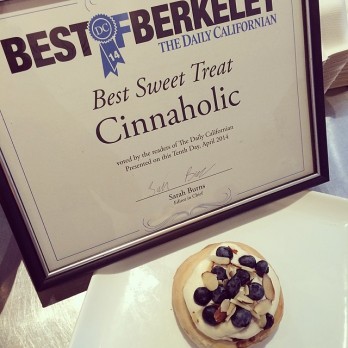 Florian and Shannon Radke didn't know they'd be cinnamon rolls tycoons when they first met, but this Friday, they'll pitch Cinnaholic to the Sharks in Shark Tank episode 525. Cinnaholic is a little shop the Radkes opened out in Berkeley, CA back in 2010. Their hook is they make sinfully delicious vegan cinnamon rolls.
While their fare is vegan, carnivores like their cinnamon rolls too. The little bake shop has taken Berkeley, and the nation, by storm. They're hoping their Shark Tank appearance will boost online sales and bring attention to their franchising opportunity. One thing's for sure: the Sharks will be well fed this Friday!
According to a recent Vegetarian Times study, 7.3 million Americans are vegetarians, 1 million are vegans and an additional 22.8 million are following a vegetarian-inclined diet. With restaurant goers asking for more vegetarian and vegan offerings when dining out, Cinnaholic's "Shark Tank" appearance could be the first step in replicating the bakery's flagship Berkeley store success and providing entrepreneurs and foodies the opportunity to serve its delicious and vegan offerings to cities across the country through franchising.
My Take on Cinnamon Rolls
The thing that intrigues me most about Cinnaholic's cinnamon rolls is the accolades they've received from vegan diners and carnivores alike. Everybody LOVES these goodies out in Berkley, why wouldn't they sell everywhere?
I have two vegetarian daughters and one lactose intolerant daughter (she's a carnivore). Whenever we all dine together, it's challenging to prepare a meal everyone can enjoy without slipping into "short order cook mode," never mind getting a dessert everyone can enjoy! I haven't tasted Cinnaholic's cinnamon rolls, but from the sound of things, it doesn't matter what dietary restrictions you have – they're just plain delicious! I don't think a dozen of these would last ten minutes in my house!
Cinnaholic wants to expand their business through mail order and franchising. I am not terribly crazy about mail order baked goods (although several companies did quite well on Shark Tank with them), but the franchise opportunity looks solid. There aren't a lot of vegetarian/vegan foods that have mass appeal, but Cinnaholic seems to have struck the right chord with their concept. A family like mine would be the ideal customer: we can all go to Cinnaholic and enjoy. I am IN!
Do the Sharks like Cinnamon?
One thing I know is this: Daymond will need to loosen his belt after this segment – he always chows down on goodies (and pilfers from the other Sharks) in the Shark Tank. I can hear Mr. Wonderful say, after taking a bite: "Wow, these don't suck!" I think the Sharks will react the way Berkeley has and they'll all like the cinnamon rolls.
The business side of things is another story. Cinnaholic is franchising right now. They claim to have inquiries from all over the country. The Sharks are skeptical of franchise opportunities, but Shannon and Florian seem to have their offer in place. They're using the Atlanta Franchise Group, a business development and franchising company with over 20 years successfully developing franchise concepts. Saying you "want" to franchise in the Shark Tank and doing it are two different things.
Tom and Chee from season four did very well after partnering with Mark and Barbara. Cousins Maine Lobster – another Barbara company – did well too. Both those food concepts are outside the "normal" food franchise concepts and both were reasonably well-developed before appearing on Shark Tank. Cinnaholic fits that profile.
Shannon and Florian haven't made an awful lot of noise about their appearance. Their website doesn't mention Shark Tank and neither did their Facebook Page (until I made a comment). Their Facebook Page DOES say (as of April 24) "exciting things are happening in May and we need extra help ASAP!!!" Does this mean they get a deal and anticipate getting slammed? My guess is they'll get slammed whether they do a deal with a Shark or not, but my "Sharky sense" tells me Cinnaholic will be a Shark backed franchise opportunity by this time next week!